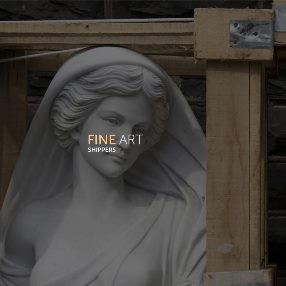 Shipping fine art is also art that requires precision and skill. For this reason, museums, galleries, artists, auction houses, and collectors work with only fine art shipping companies they can trust. At Fine Art Shippers, we are very proud to be one of these companies and see so many reputable art business professionals and talented artists among our clients.
For more than 20 years, our team of experienced artwork shippers has been working with the art community, handling valuables and collectibles with respect, care, and attention they deserve. For today, we offer a full range of fine art shipping services to meet any need, which makes us an all-in-one-solution to any artwork moving problem. Moreover, our specialization includes literally any kind of art, from drawings and paintings to large bronze sculptures and huge outdoor installations. Besides, while Fine Art Shippers is headquartered in New York, we also operate nationally and internationally, giving our clients an opportunity to safely ship their art to anywhere in the world. So what fine art shipping services can you order from Fine Art Shippers?
We are ideally located to provide comprehensive air, sea, and multimodal fine art shipping services of the highest quality, with many cost-effective options to choose from.
Our expertise allows us to organize museum exhibitions and various art shows that require professional handling of rare and one-of-a-kind items with historical and cultural value.
Furniture and interior design
Whether it comes to modern or antique furniture, Fine Art Shippers offers the best way to transport it safely to wherever it needs to be. The same applies to various décor and interior design items.
Moving modern and contemporary art of any size, weight, and shape has always been an integral part of our fine art shipping services, and we are happy to work with talented artists, moving their artwork both nationally and internationally.
From gallery and museum installations to outdoor sculpture and light shows, Fine Art Shippers can handle any art installation task, no matter big or small.
We offer fast and secure local art transportation services, with the same day delivery option within the Tri-State Area if necessary.
Fine Art Shippers partners with only trustworthy insurance companies, providing our clients with specialized insurance services for the sector of art and antiques.
Our team of trained art handlers can securely deliver any piece of art, even when it comes to million dollar jewelry or an exclusive Old Master painting.
Gallery and auction services
We also provide comprehensive fine art shipping services to galleries and auction houses, ensuring that every artwork is delivered to its destination intact.
Fine Art Shippers is proficient in moving and shipping pianos of any size and weight. Moreover, we can safely ship these delicate musical instruments even overseas.
We offer professional packing and custom crating services, using only high-quality packing materials and wood to ensure that every piece of art is properly protected in transit.
Since fine art shipping is impossible without a secure place for temporary art storage, we provide our clients with a variety of options to store their precious possessions.
For those looking for an economical fine art shipping option, we offer local and interstate art shuttle services, with shuttles circulating every single week.
In general, whatever your fine art shipping problem, our reliable team of artwork shippers can solve it for you in the most efficient and cost-effective manner possible. If you need more information about our services, please do not hesitate to contact Fine Art Shippers at any time! Plus, you can always request a brochure with the major information about our company.