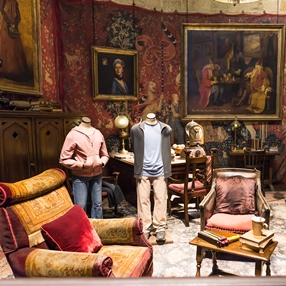 Fine Art Shippers is primarily known for providing art business professionals and individuals with high-quality art handling, art packing, and art shipping services at reasonable prices. Moreover, while our small, family-owned company is headquartered in New York City, we successfully operate across the globe thanks to our reliable partners and representative offices in many countries worldwide, including the United Kingdom, Germany, Russia, and China. Besides, in addition to standard art logistics services, Fine Art Shippers also offers an extensive range of other important services, including art installation and stage set-up of any sort. In other words, whether you need safe and secure transportation services provided by reliable shippers of fine art, or you are looking for assistance with setting up a gallery exhibition or decorating a film set, Fine Art Shippers is the right place to come for help!
Art installation services
Art installation is one of our major services, and we are very proud to work with some of the best galleries and auction houses, organizing and setting up exhibitions for them. For example, we work with Shapiro Auctions, Art d'Aurelle, Galleria ZERO, and a whole range of other local and international art businesses and institutions, providing them with comprehensive art installation services of any type. Besides, Fine Art Shippers is also a great choice for private collectors and individuals wishing to properly organize art exhibition spaces in their homes and offices. Plus, we collaborate with professional interior designers and decorators to fulfill the needs of the most demanding clientele.
Stage set-up services
In addition to providing art installation services, Fine Art Shippers also offers stage and decoration set-up services all over the United States. We have years of experience moving large and heavy décor pieces, working with movies sets, installing equipment, and setting up stage decorations of any kind. It is also worth noting that this job is not only interesting and exciting but also an amazing way to meet so many talented people working in the movie industry. For instance, at Fine Art Shippers, we are very proud to know the famous Cuban-born film director Roberto Monticello who is now living in the Meatpacking District of Manhattan, NYC.
Whether it comes to art installation or stage set-up services, please feel free to contact Fine Art Shippers! We always provide the best service possible based on the needs of each individual client!