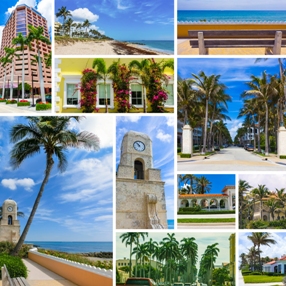 This December was simply incredible for our fine art moving company! Not only did we do much of art handling and shipping work for our New York and London clients, but we also visited all the major art fairs and shows during Miami Art Week, helping galleries and collectors with art logistics. In particular, Fine Art Shippers was presented at Art Miami, Aqua Art Miami, CONTEXT Art Miami, NADA Miami, and certainly the renowned Art Basel Miami Beach. However, the next year is expected to be no less exciting and busy, starting right from January. The fact is that our fine art moving company will be at the third edition of Palm Beach Modern + Contemporary held in West Palm Beach on January 10-13, 2019.
Palm Beach Modern + Contemporary
Palm Beach Modern + Contemporary is an important international art fair presented by Art Miami and hosted by West Palm Beach. It always brings together the leading art galleries from around the world, and this year's edition is no exception, with nearly 70 exhibitors from the United States, Canada, the United Kingdom, Venezuela, Portugal, Germany, France, Japan, and other countries. A whole range of Post-War works and Blue Chip contemporary art by some of the most prominent artists will be available for purchase to the delight of art connoisseurs and collectors alike. As for our fine art moving company, we will be happy to help dealers and buyers ship their precious artworks, as well as assist galleries with any of their art installation and booth set-up needs.