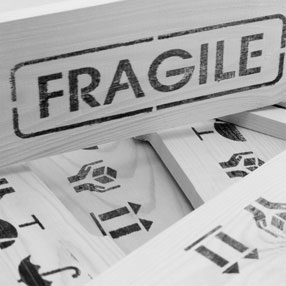 To secure priceless art pieces during transportation, Fine Art Shippers use a variety of modern materials for their packaging. Each of them has a set of properties that help protect the transported object from the influence of heat, cold, moisture, shock, etc. In general, art packing depends on the particular item and the material it is made from, as well as its shape and size. However, our professional art handlers and crate makers always pay attention to every little detail, no matter what monetary value the object has. For today, we provide a full range of packing and crating services. First of all, we find out the safest packing material for each item, as the incorrectly chosen one can deteriorate the object if it is not compatible with the original contents. Moreover, if it is necessary, our experienced carpenters build protective crates and cases in all possible shapes and sizes, and with all sorts of protective cushioning configurations and interior bracing. Here are just some of them:
1. Travel cases and frames to protect fine art objects that must withstand the additional rigors of long distance and international transporting.
2. Museum crates for all encasing delicate art objects, including antiques of all shapes and sizes.
3. Standard crates, such as corrugated boxes, object trays, and foam board cases, for protecting less fragile objects.
4. Skids made in both metals and timber for securely cradling large sculptures and other similar objects.
5. Skeleton or slat crates for large art pieces with particularly unusual configurations that require less stringent protection.
6. Hand-сarry сases for small fine art objects.
7. Containers in paper or plastic, as well as soft wrapping with archival and standard materials.
8. Custom crates matching your personal wishes.
When packing any valuable or fragile item, our trained art handling specialists always wear white, cotton gloves that prevent dirt and unwanted finger prints from getting on the object. We never use any packaging materials that contain acid and can drastically change the valuable object. In addition, our team works only in the clean, isolated packaging area. Furthermore, each package or box is labeled in order to reduce confusion during art delivery. In general, being a reliable shipping company, Fine Art Shippers offer a great variety of art services, including packing and crating, art storage, door-to-door delivery with special handling for the most valuable or irreplaceable items, local and long-distance transporting, insurance, and many others. That's why you can be confident in the safety of your precious artwork!