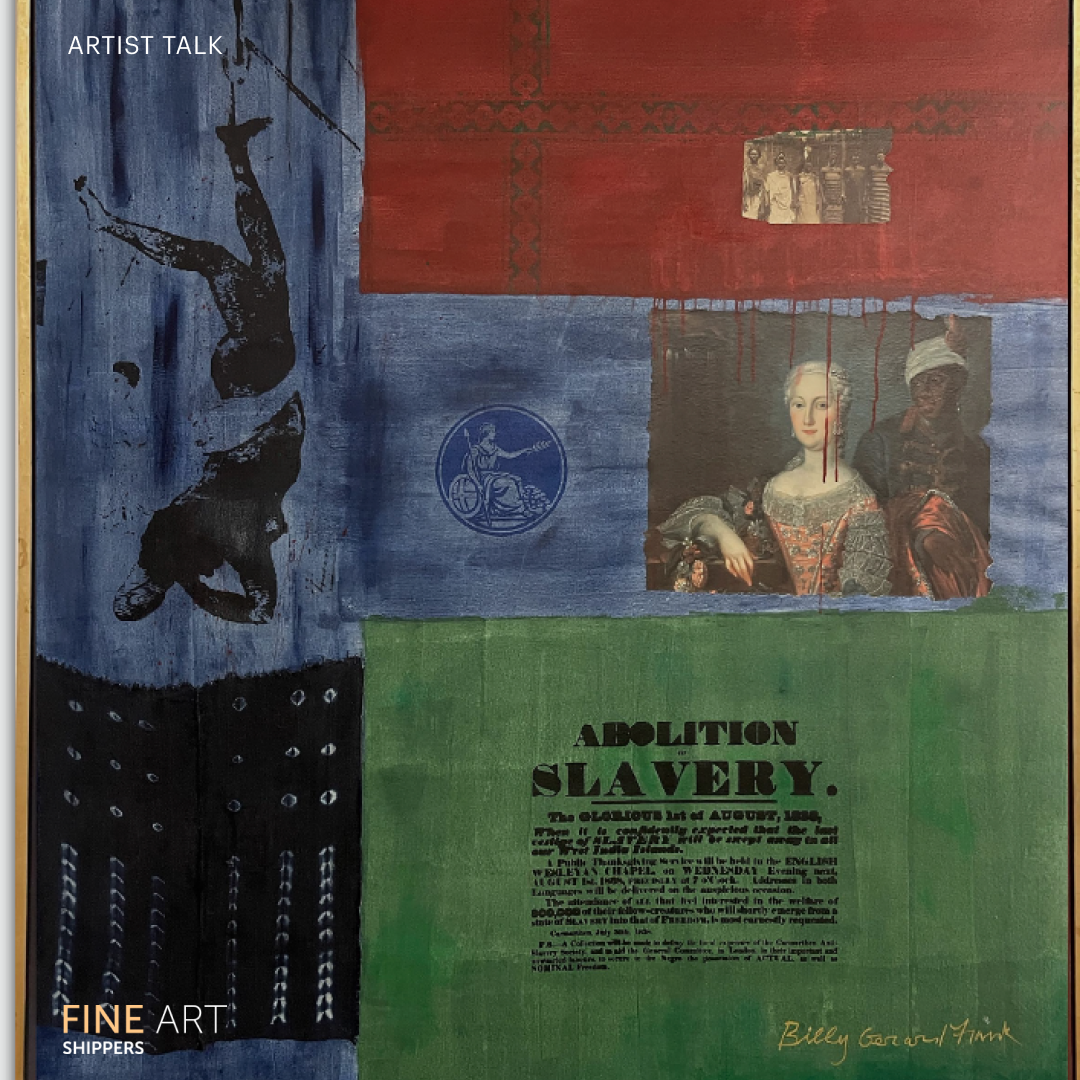 Billy Gerard Frank is a multi-disciplinary artist whose work spans traditional mediums, painting, installations, film, and more. Through his research-driven approach, he explores a wide range of topics related to migration, race, exile, global politics, post-colonialism, and queer decolonialism. Fine Art Shippers has had the pleasure of working with Billy Gerard Frank on numerous occasions. In a recent conversation, the artist shared with us his work-in-progress — a large-scale mixed media series titled "Indigo: Entanglements." Read on to find out more.
Indigo: Entanglements by Billy Gerard Frank
Billy Gerard Frank: "Indigo: Entanglements" is a continuation of my research into the trans-Atlantic slave trade. Drawing inspiration from artists like Robert Rauschenberg and Andy Warhol, who employed silkscreen and other mediums to convey history, this body of work delves into the historical narrative In these works, I use self-made natural indigo pigments, which played a significant role in the Trans-Atlantic trade, being imported from the Caribbean to Europe.
These pieces also include logos of institutions such as the Bank of England and the Royal African Company, which had direct connections to the slave trade, with the latter being owned entirely by the Crown.
However, my intention is not to take sides but to provide a neutral historical perspective. I aim to provoke thought about the complexities of the Trans-Atlantic slave trade vis-à-vis contemporary forms of slavery. Currently, my focus is primarily on Europe, particularly Scotland and England. Later, I plan to encompass France, the Dutch territories, and beyond, given the extensive archival materials I've collected.
At this point, this series consists of large canvases, works on paper, and smaller pieces on wood panels. I'm seeking opportunities to showcase this work in institutions and find collectors who would be interested in supporting the continuation of this research.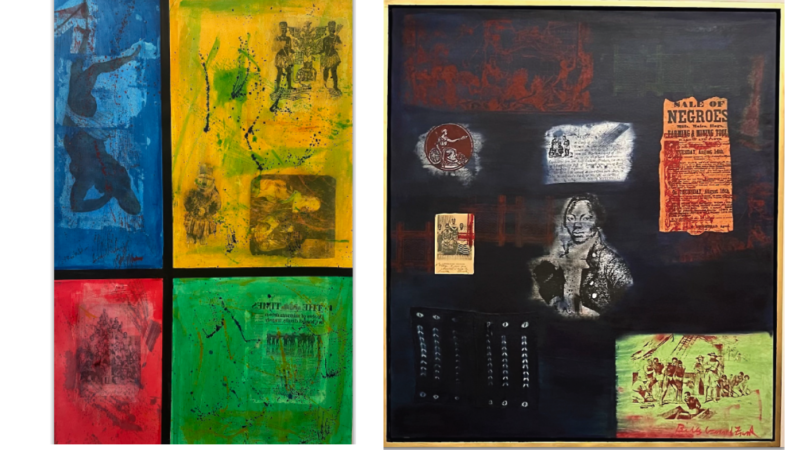 A Sneak Peek Into the Series
In one of the works titled Indigo: Entanglements. NO.7 I look into the role of the British royal family in the slave trade which started with Queen Elizabeth I, who sponsored the slave voyages of John Hawkins as early as 1564. Alongside the Royal African Company logo, this piece also features 18th-century advertisements, such as "Negro sales." These advertisements from merchants involved in the slave trade highlight that both Europeans and Africans played their roles in this dark period of history. Indeed, many slaves were captured by fellow Africans and sold to Scottish and Dutch merchants.
Furthermore, I've integrated African woodcuts and cowrie shells, sourced from the Maldives, which historically were used as currency for the slave trade. The work also touches upon the role of Christianity and the church during the slave trade era. Other elements in the artwork include depictions of Africa, mainly by Europeans, adding yet another layer to its complex narrative.
Another important feature of this series is references to Dante's Inferno.
Continuous Research
"Indigo: Entanglements" is the continuation of the film "Palimpsest Tales Spun from See and Memories," which was featured in the 59th Venice Biennale last year. This film explored the life of Quobna Ottobah Cugoano, a notable 18th-century abolitionist in the UK. A native of Ghana, Cugoano was captured and transported to Grenada as a slave. From there, he was acquired by Alexander Campbell, a major plantation owner in Grenada, and later taken to England. After a while, he became a servant to the royal painter, Richard Cosway.
This work was later expanded upon, and when displayed at the Butler Institute of American Art, it was accompanied by two large paintings complementing the film.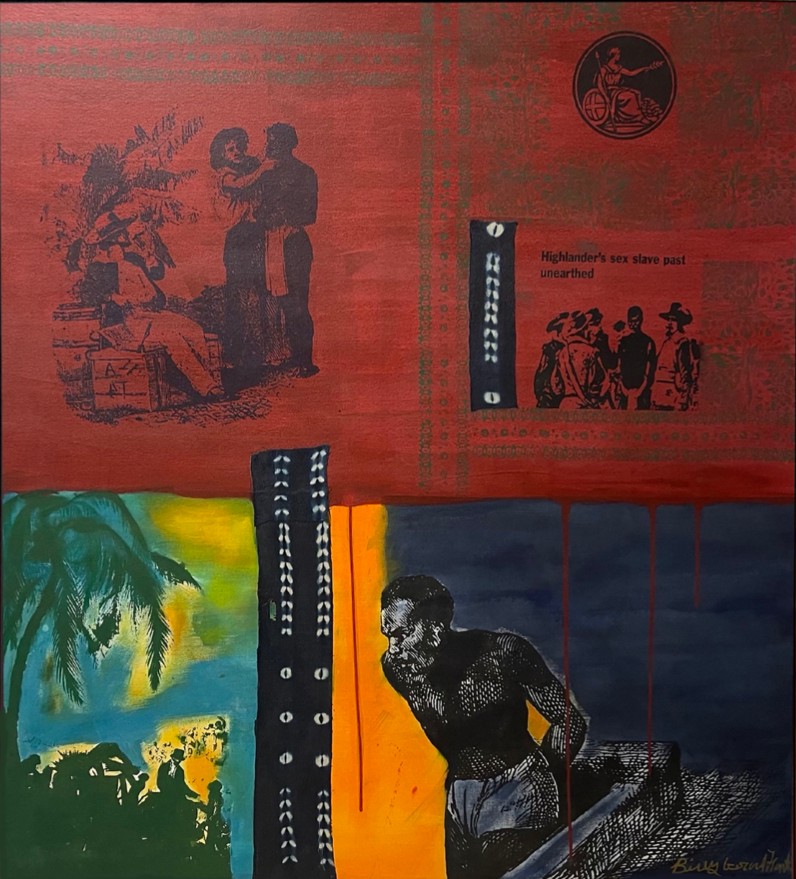 Recently, I've been commissioned by the National Trust of Scotland for a project about Scipio Kennedy, a young boy who lived in Culzean Castle. He was gifted at the age of 10 to the mistress of the castle as a wedding present from her father. Scipio lived his entire life with this family. I'm scheduled to stay at the castle for a month starting in September to conduct further research.
During my stay, I will also take part in a two-day symposium titled "Children of Empires" exploring the lives of child slaves depicted in 18th-century European paintings. Many of these children, both boys and girls, were sent to work as pages, and their futures largely depended on their relationships with their employing families. In Scipio's case, he never returned to a plantation. He stayed with the Kennedy family throughout his life, and one of his offspring even worked on their estate. Remarkably, upon her death, Dame Kennedy bequeathed him the same inheritance as her own children, along with property.
The symposium will also discuss modern slavery—a topic that I also explore in "Indigo: Entanglements."
Photo courtesy of Billy Gerard Frank