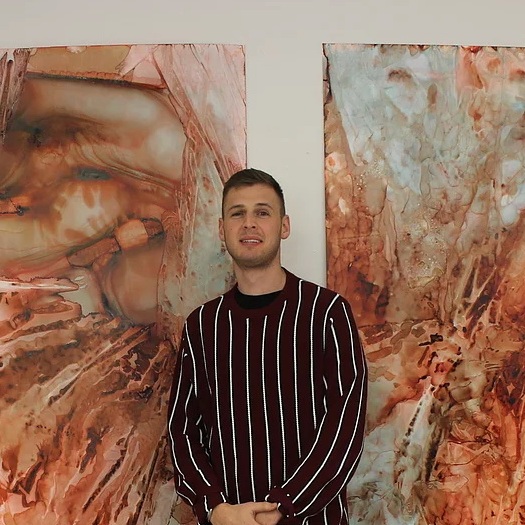 At Fine Art Shippers, we love to work with the State University of New York at Stony Brook. This highly rated institution is one of America's most dynamic public universities and also an internationally recognized research institution aimed at changing the world. Besides, it is full of art. For example, not so long ago, we had the pleasure of visiting Lawrence Alloway Gallery when delivering artwork to the Music Library, a university library in Stony Brook. There was an amazing exhibition of truly impressive works of art by Joseph Santarpia.
Joseph Santarpia
Joseph Santarpia is a very talented contemporary artist who received his Bachelor of Science in Visual Art Education from the State University of New York at New Paltz in 2017 and is currently a Master of Fine Arts candidate at the State University of New York at Stony Brook. Santarpia is working primarily in water media painting and collage, sometimes combining these techniques to create something unique.
Joseph Santarpia's works of art represent a very interesting mix of realistic and non-representational subject matter. His fantastic depictions of the body, mind, and physical world are the artist's attempt to capture human experiences and to show what it is that we feel during the moments of love, anger, triumph, conflict, etc. Joseph Santarpia is a young artist, but his amazing works of art have already been exhibited all over New York, including at Gallery North in Setauket, Limner Gallery in Hudson, the Brooklyn Waterfront Artist Coalition, and the LIC Arts Open Gallery. Besides, this talented artist is an art educator working for many galleries and institutions in New York.
If you love abstract paintings, contemporary collage art, and uncommon artworks, we highly recommend that you visit Joseph Santarpia's exhibitions. You are sure to love his beautiful works of art because they are truly impressive. Here are just several of them for you to enjoy!