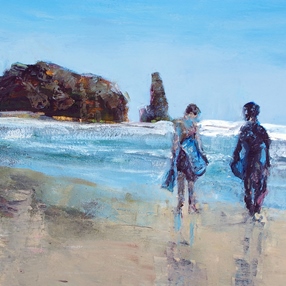 Whether you are an artist, a gallery owner, or an art collector, chances are that at some point, you will need to ship a painting on canvas over a long distance or even overseas. It may seem not a big problem if you are shipping a small painting, but what if the artwork is pretty large and heavy? How to ship a painting on canvas in such a case?
It goes without saying that if you do not know how to ship a painting on canvas overseas, the only right solution is to hire an experienced fine art shipping company specializing in handling and transporting artworks of any size and weight. For example, at Fine Art Shippers, we can ship any painting to any destination worldwide, even if it comes to shipping a huge museum-quality masterpiece to China or Australia. Besides, we offer professional art packing and crating services in-house to ensure that our clients' possessions are all properly protected to withstand a long-distance move. However, if you intend to pack your painting yourself, please do not skimp on high-quality packing materials and supplies!
How to ship a painting on canvas?
Each painting is unique, and each painting requires special care and attention when packing it for shipping overseas. However, in most cases, you will need the following materials:
acid-free archival tissue paper or glassine paper to protect the surface of the work;
plastic sheeting or bag to protect the painting against moisture;
bubble wrap for padding;
sturdy cardboard or foam board to form a 'sandwich' with the artwork inside;
custom built wooden crate for the utmost protection in transit.
If your painting is framed with glass, you will also need corner protectors and a blue painter's tape. A framed painting can additionally be put in a cardboard box and only then in a wooden crate for its better protection during the move.
If you are not sure how to ship a painting on canvas overseas safely and securely, always order a professional packaging and shipping service from a trustworthy company! At Fine Art Shippers, we offer an extensive range of art packing and shipping services at reasonable prices, so do not hesitate to contact our team even if you have a limited budget. You can also request a free shipping quote right on this website, and we will provide you will all the details regarding your particular shipment and its cost.