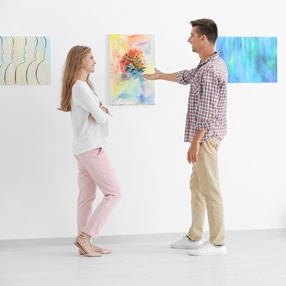 Whether you are an artist, a gallery owner, or a collector, chances are that sometimes you need additional place to store your art. For example, what if you want to remodel your apartment or redevelop the exhibition space? How about those art pieces you are not sure what to do with right now? You can certainly use a self-storage unit in such a case; however, let's not forget that it is not an option for valuable, fragile, and delicate pieces that require special storage conditions. In fact, the best you can do is order professional fine art storage services in New York. But how to ensure you have chosen the right company?
Top 5 questions to ask when choosing an art storage facility in New York
1. Is your art storage facility climate-controlled?
Since changes in temperature and relative humidity can negatively impact the lifespan of art and antiques, it is of utmost importance to ensure that the storage facility is climate-controlled, especially if you need to store paintings, textiles, wood pieces, or any other items made of natural materials.
2. Is your staff trained to handle art?
Needless to say that most fine art pieces are very delicate and require special handling, so you need to find a facility operated by professional art handlers who know how to treat any kind of art carefully.
3. How can you guarantee protection for my art collection?
First of all, a reliable art storage facility should be equipped with sophisticated alarm and fire sprinkler systems. Secondly, it should be completely covered with art insurance for the full value of all the pieces being stored.
4. Are you prepared for emergencies?
Although natural disasters do not occur every day, the very rarity of them can easily destroy your collection of art, even if it is stored in a secure storage facility. Thereby, it is important to ensure that the chosen warehouse and its staff are prepared for emergencies and disasters.
5. Do you provide art packing and crating services?
It is always better to choose a company that offers not only art storage but also a variety of other services related to moving art, in particular art packing and crating. After all, only experienced shippers of fine art can provide the right level of protection for artwork of any kind.
At Fine Art Shippers, we offer a whole range of temporary art storage solutions in New York and other US cities, so feel free to contact us each time you need a secure place to store your possessions for some time!