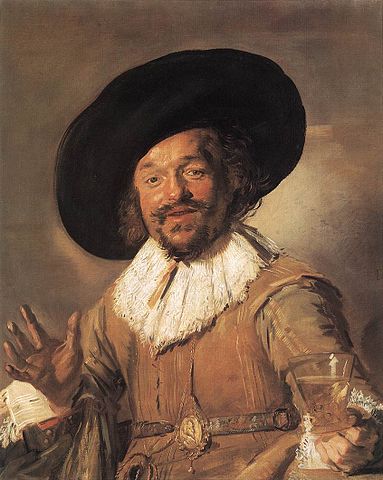 Throughout history, alcohol has influenced artists and their works in multiple ways.
Here are just four intriguing links between art and alcohol.
Many Painters of the Dutch Golden Age Had Strong Links with Alcohol
The Dutch Golden Age of the sixteenth and seventeenth centuries is perhaps the first time that alcohol began to make such an impact on the works that artists created.
One of the earliest examples from the period is Frans Hals' The Merry Drinker from 1630. While Hals produced many portraits of local officials like mayors, councilmen, and clerks, he also created a number of paintings that showed the social misfits and drunkards of the time.
Seeing as Hals himself was a frequent drinker, it is no wonder that he chose a subject matter close to his heart.
Another notable painter from the Golden Dutch Age who was fond of depicting drunkenness and debauchery is Jan Steen, who was actually a brewer and innkeeper as well as an artist. So, his paintings literally showed his way of life.
If Steen was alive today, he could join your local brewers guild, in which brewers can connect with their fellow colleagues.
Though, his drunken behavior probably would not be tolerated as much as it was in the seventeenth century.
Hogarth Followed in the Footsteps of the Golden Dutch Age Painters
William Hogarth followed in the footsteps of the likes of Hals and Steen.
The English painter, who lived between 1697 and 1764, painted several paintings that showed the drunken side of life, but his most famous work that illustrated the destructive effects of alcoholism was his 1751 artwork Gin Lane.
The painting depicts a drunken wretch, with a cracked smile, a tilted head, and exposed breasts, sitting on a step that leads down to a gin cellar.
The Nineteenth Century Saw Even More Painters Depicting Drunkenness
While beer, wine, and gin drinkers were portrayed the most in artworks depicting drunkenness prior to the nineteenth century, it was absinthe that became the favorite tipple of the artists of that time and, in turn, the green-fairy drink influenced many of their artworks.
The most famous painter from the nineteenth century who depicted the absinthe-drinking drunkards of the time was Henri de Toulouse-Lautrec, who famously frequented Parisian bars and drank absinthe regularly.
According to French artist Gustave Moreau, Toulouse-Lautrec's paintings were painted entirely while the artist was drunk on absinthe. In fact, Toulouse-Lautrec was such an alcoholic that he had a special walking stick made that was hollow and filled with an emergency stash of absinthe.
Vincent Van Gogh was another painter from the era who had a penchant for absinthe and created paintings based on the theme of absinthe-drinking, such as his 1887 work L'Absinthe.
Nineteenth-century painters Paul Gaugin, Edgar Degas, and Édouard Manet also produced paintings about absinthe drinkers.
Plenty of Twentieth Century Artists Continued the Tradition of Linking Art and Alcohol
Francis Bacon, who was born shortly after the turn of the century in 1909, claimed that he had been drunk since the age of fifteen. Almost every evening of his life, he could be found in the drinking holes of London's Soho.
In fact, he was one of the founding members of the Colony Room Club, which was a private members club that was set up purely so that members could get around restrictive licensing laws and drink from lunchtime to the early hours.
Other artists who were members of the club include Michael Andrews, Frank Auerbach, and Lucian Freud.
Fast-forwarding to the late twentieth century, alcohol continued to feature in various famous artworks, such as Gilbert and George's 1962 work Balls: The Evening Before the Morning After – Drinking Sculpture and the works by Cy Twombly.
More recently, video artist Christian Marclay presented an eleven-screen video installation entitled Pub Crawl.