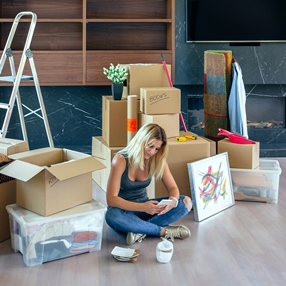 It goes without saying that shipping fine art requires much attention and the highest level of care at every point of the transportation process. For this reason, whether it comes to shipping paintings, sculptures, or contemporary art installations, it is better to hire professional shippers of fine art, who know how to ship artwork of any type safely and will work with you to ensure that every single piece arrives at the destination in its pristine condition. Fine Art Shippers is, without a doubt, a great choice for this job. Possessing 23 years of experience handling and shipping various art pieces, both big and small, we proudly serve many reputable galleries, art collectors, dealers, auction houses, and artists, providing them with an extensive range of art transportation services nationally and internationally. These particularly include high-quality art packing and crating services our team performs in-house. However, sometimes, our clients prefer to pack their art pieces themselves, but they frequently face a problem of choosing the right artwork shipping boxes able to properly protect their treasures in transit. For example, do you know which boxes are good for shipping paintings over a long distance?
Artwork shipping boxes for paintings
When it comes to choosing the best artwork shipping boxes for paintings, there are three major options to consider:
The most affordable way to ship framed paintings is to use strong double wall cardboard boxes like those used for moving LCD and HD Plasma televisions. If your painting is properly wrapped and packed in such a box, it may withstand even a long-distance move.
Special artwork shipping boxes
You can also choose artwork shipping boxes made specifically for shipping paintings. Such a box usually represents a strong, humidity-resistant corrugated container with several layers of foam protection inside to properly protect the artwork in transit.
If you are shipping a painting overseas, opt for a high-quality custom wooden crate built for your artwork. It is the best way to provide your painting with the utmost protection and ensure that it arrives at the destination without a scratch.
In case you are not sure which artwork shipping boxes to choose, please feel free to contact Fine Art Shippers! Besides, you will be pleased to know that all over services are available at very attractive prices to meet any need and budget!