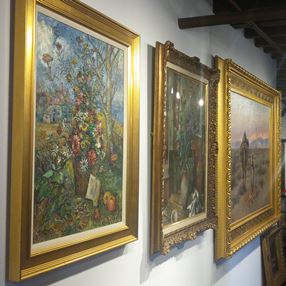 As you probably know, Shapiro Auctions is a reputable New York-based auction house conducting multiple sales a year, focused on American, Latin American, European, Russian, and Asian works of art. Founded in 2007, Shapiro Auctions has already established record prices for many artists, and it continues to offer impressive pieces of fine and decorative art, as well as museum-quality Russian icons, militaria, rare books, and other valuable objects created at different times. It is needless to say that at Fine Art Shippers, we are very proud to be preferred auction shippers for Shapiro Auctions and ship fine art for this renowned auction house and its clients worldwide.
Auction of Fine & Decorative Art
The next Shapiro Auction of Fine & Decorative Art will be held on March 7, and Fine Art Shippers, as always, has been chosen as auction shippers to install, pack, move, and ship all the valuable artworks that will be auctioned next week. Among the highlights are Franz Alekseevich Roubaud's "Meditation in the Desert," David Burliuk's "Front Street, NYC," Fedot Vasilyevich Sychkov's "Mordvinian Girl," Wayne Thiebaud's "Portrait of Artist's Wife Patte," Moise Kisling's "Port de Saint-Tropez," Jean Metzinger's "Jeune Femme Pensive aux Roses Rouges," and many other works, including exceptional pieces by Andy Warhol and Salvador Dali. Plus, the upcoming Auction of Fine & Decorative Art also features a beautiful selection of porcelain and enamel items, as well as Faberge masterpieces.
Art installation services from auction shippers
As professional auction shippers, we not only pack and ship art and antiques but also provide comprehensive art installation services to galleries, museums, and auction houses, helping them get prepared for the upcoming exhibitions, auctions, and art shows. As for Shapiro Auctions, our team of specialist art handlers has long been doing all art installation/deinstallation and art hanging works for this reputable auction house, from setting up artworks for the upcoming sale to providing unique solutions with engineering approach to the most complex projects. It is also worth noting that our team of trained auction shippers can handle any art installation job, no matter the weight and size of the auctioned objects, even when it comes to massive 200lb paintings and huge sculptures. Below you can find several photos that show our auction shippers doing their job for the upcoming Auction of Fine & Decorative Art that will be held by Shapiro Auctions on March 7. Enjoy!