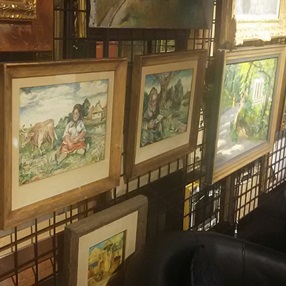 At Fine Art Shippers, we pride ourselves on providing a responsive and efficient artwork shipping service. Our branded company consisting of a small team of dedicated shippers of fine art was established in 1995, and since then, we have been serving the art community all over the Tri-State Area and beyond. For today, we work closely with many reputable artists, private collectors, gallerists, auction houses, and interior designers, helping them pack and move art in the safest and most cost-effective way possible.
Artwork Shipping Services
While Fine Art Shippers is based in New Your City, we provide artwork shipping services across the country and internationally. From local moving to complicated shipments by sea and air, no job is too small or too big for our expert team of art shippers. Besides, we are specialists in same-day deliveries, which makes us the best choice if you need your artwork to arrive at the destination quickly and securely. Plus, we offer a variety of art shuttle options across the U.S. for those who want to save some money on the transportation of their art without sacrificing the quality of the artwork shipping services.
However, artwork shipping is not the only service we offer. Our experience and skills also allow us to offer smart engineering solutions for any art installation needs. In fact, art installation has always been an integral part of our services, making Fine Art Shippers the right choice when it comes to art exhibitions and shows of any kind. What does it mean for you?
Art Installation Services
Whether your works are site-specific and cannot be easily moved or you simply do not know how to organize your art in a limited space, in addition to artwork shipping services, Fine Art Shippers can provide you with unique and custom-tailored art installation and metalwork engineering solutions to meet all your needs and requirements. This applies to complex art pieces, heavy items, large sculptures, antiques, very fragile pieces, and a whole range of other valuables and collectibles. We have vast experience in working with galleries and auction houses, including Shapiro Auctions, for whom we set up all pre-sale exhibitions as the official art shipper and installer. Our team is able to find creative engineering solutions even when there is no space, and we can resolve any issues that may arise during the artwork shipping or installation process. We love what we do, and we are always ready to try something new! As an example, below you can find several photos of our team doing their thing for the Shapiro Auction of Fine and Decorative Art.