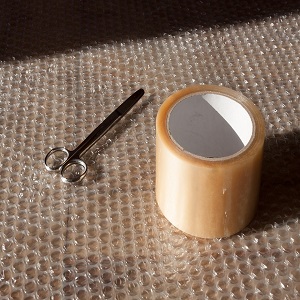 Transportation services are very popular today because everybody understands that it is much easier to delegate relocation of different belongings to professionals instead of doing everything on one's own. Professional movers know better how to pack different items, especially pieces of art, and what materials to choose for art packs.
Art Packs: Careful Selection of Materials
Packing is an integral part of the relocation process if we are speaking about the pieces of art. They are too valuable, and some of them are too fragile to be transported without packing. An owner may not know all the requirements for transportation and select wrong packing materials, while art handlers always know what works better in each case.
This is one of the most popular and suitable materials for art packs. It is very difficult to imagine relocation of different items without it since it is easily accessible and cheap. An object wrapped in bubble wrap is protected from mechanical damages very well due to a great number of these funny air bubbles.
It is a good eco-friendly material used to make boxes of different sizes for art packs. Its main advantage is its light weight that makes it easier to lift the boxes. However, cardboard can be used for short-distance relocation only because it doesn't give enough protection from mechanical damages.
Styrofoam is considered a high-quality filling material. If it is necessary to fill free spaces in your art packs to minimize risks during the transportation, you may always use cheap and convenient styrofoam. Moreover, it can be used for long-term storage as well when paintings are interlaid with styrofoam sheets to ensure better protection.
Similar to corrugated cardboard, this material is also considered eco-friendly. Its main advantage is that it is widely used for making durable crates. A crate is the safest variant of art packs for long-term transportation. A crate created for a certain painting or other piece of art can be used as many times as necessary; therefore, even high price and time required for its manufacturing should not deter you from using this material.
Hence, if you plan relocating and want to protect your pieces of art, there are plenty of suitable materials for packing. Remember that mentioned materials can provide necessary protection to your art collections in any conditions. However, it is better to delegate packing and unpacking processes to professionals who are well-informed about the materials and can select the most suitable option in your case. In this way, you will not waste your precious time and efforts packing all the stuff by yourself and worrying that you did something wrong.