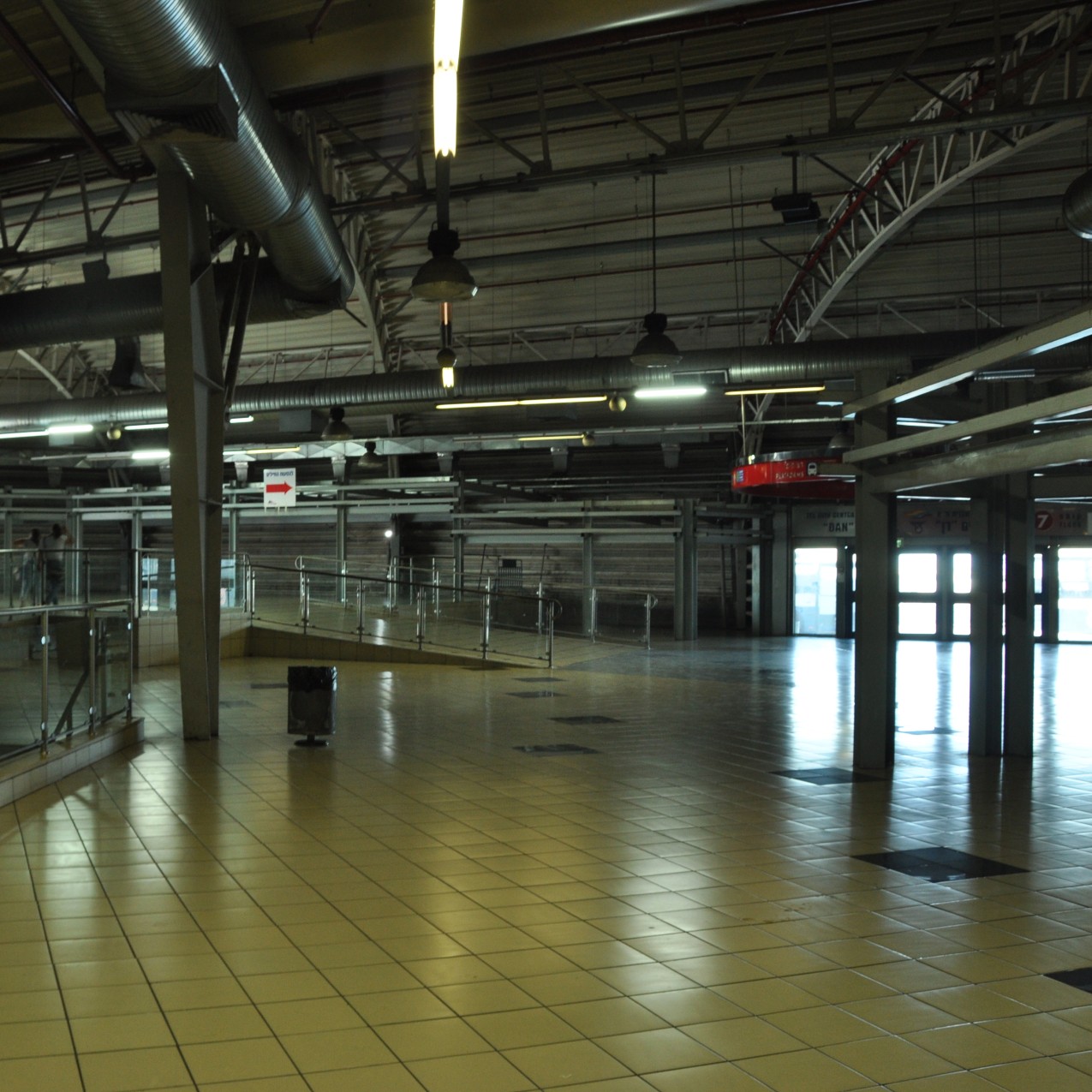 Oz Madar is an Israeli architect and street artist living in Tel Aviv. Fine Art Shippers spoke with him about the urban phenomenon of the Tel Aviv central bus station.
Construction of the station began in the 1960s with plans for two floors dedicated to commerce and public transit gates. However, a conflict between two bus companies led to the addition of an extra floor to accommodate both of them. In the 1970s, construction came to a halt due to a lack of funding, leaving behind a massive unfinished building. New investors were brought in, but with each round of funding, more retail space had to be added to the already complex floor plan. Finally, in 1993, the station opened to the public with six floors, over 1,000 shops, and even a movie theater.
Unfortunately, despite its grand scale, the building was never fully used as many areas remained inaccessible to the public, making the commercial space unprofitable. The station gradually fell into disrepair and in 2021 was eventually closed by the authorities.
Oz Madar shared with us the history of the station, which he personally witnessed, as well as his role in the attempts to breathe new life into the building.
Tel Aviv Central Bus Station: A Story of Failure
What do you remember about the station from your younger years? What impression did it use to make on you?
Oz Madar: In my childhood, I was fascinated by this massive unfinished building looking like a set of a sci-fi movie. During the Gulf War (1990-1991), it served as a shelter for many people.
When the station finally opened in 1993, it housed a lot of small shops, music stores, magazine stands, and restaurants. However, the massive structure with multiple levels and hidden alleys made it difficult for the public to reach those commercial spaces. The building's immense scale, consisting of seven floors above ground and five below, resulted in poorly lit lower levels and numerous alleys that were simply inaccessible to visitors. That caused people to avoid it.
Over time, major stores and companies gradually withdrew, leaving the building largely abandoned. I personally witnessed the unfortunate deterioration of the building as it became occupied by homeless people and refugees. The situation became so dire that even the two major bus companies in Tel Aviv left the station. Eventually, a decision was made to close the building.
Moreover, the constant noise from buses discouraged people from living nearby. Numerous apartments were abandoned, and the area saw an influx of refugees and an increase in crime. This triggered a chain reaction, as residents from nearby neighborhoods started to leave their areas as well, causing the urban decay to spread outward.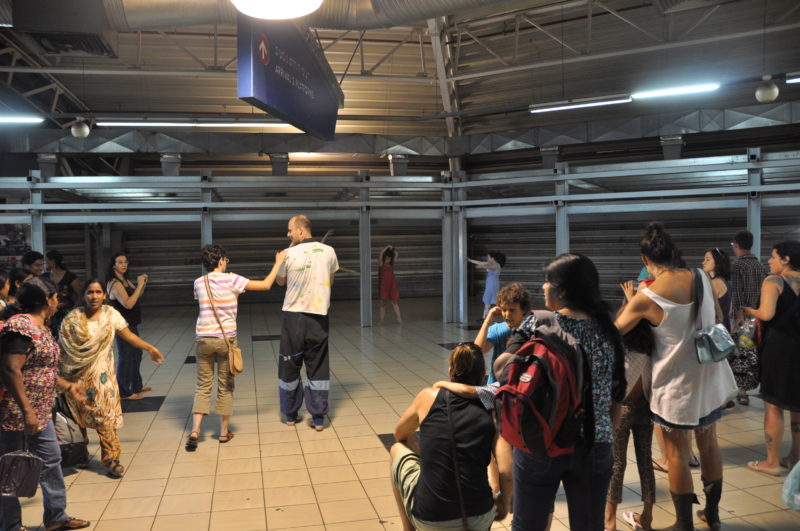 You were among the curators of an art exhibition that took place at the station as an attempt to revitalize the building about ten years ago. Could you tell us more about this project?
My partner, Mati Ale, and I organized an exhibition called "The Seventh Floor" held on the seventh floor of the building. Our aim was to transform the gray and dim space into a vibrant and colorful environment. We invited forty to fifty Israeli and international street artists to paint the walls. Our vision was to gather the scattered graffiti from the city into one concentrated location that would be open to the public 24/7.
Initially, the management had reservations and granted us only one year to use the space, demanding that we repaint everything in white afterward. After the first wave of artists completed their works, we organized an opening event, which attracted around 10,000 attendees, including journalists from various media outlets. Impressed by the success, the management allowed us to keep the artwork for as long as we wanted without repainting it. The project became one of the most significant in Israel and gained international recognition.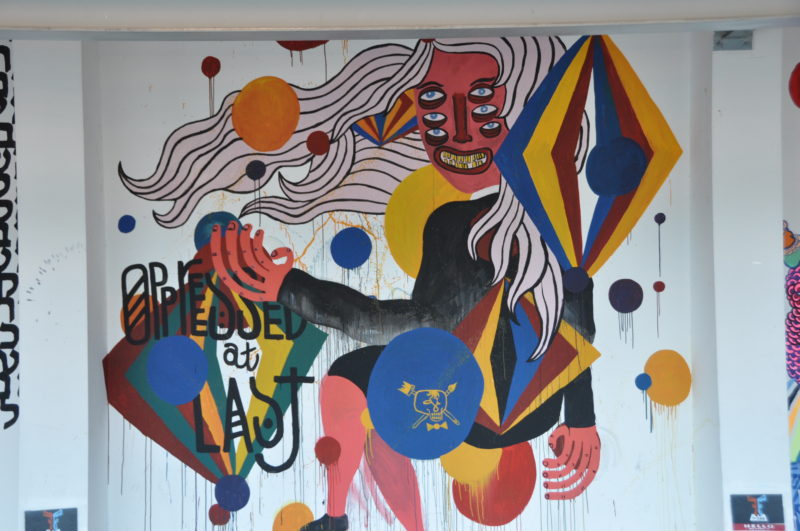 That was the first wave. What happened next?
Inspired by the success of the initial exhibition, we continued the project with additional shows held in different areas of the building over four years. Despite being self-funded, the exhibitions drew large crowds and generated excitement through annual opening events. Throughout the project, we showcased the work of over 150 Israeli and international artists, featuring a wide range of techniques and styles.
Unfortunately, as time passed, the building deteriorated, and the project encountered difficulties due to changes in management. The new management imposed restrictions, preventing further shows.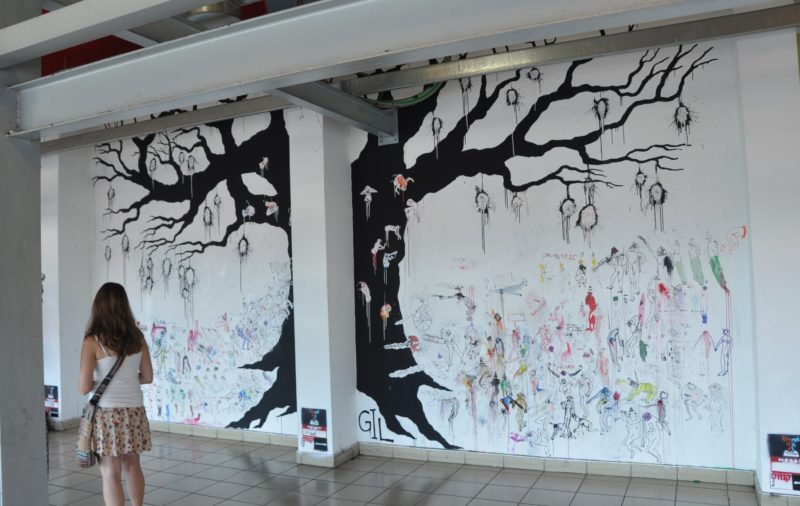 Your day job is architecture, but you are also a street artist yourself. What drew you to this art, and what role does it play in your life?
Street art, for me, is more of a hobby. At some point, I began paying attention to street art as a distinct voice of the city. I started capturing photos of graffiti and street art and sharing them on social media. This allowed me to connect with artists and develop friendships.
I was often invited to photograph artists while they painted live. Over time, I felt a desire to try street art myself and started painting alongside them. I don't consider myself a full-fledged artist–I simply enjoy expressing myself creatively. Also, I founded a collective called Urbaniacs where like-minded artists come together to organize group exhibitions and other projects.
Interview by Inna Logunova 
Photo courtesy of Oz Modar