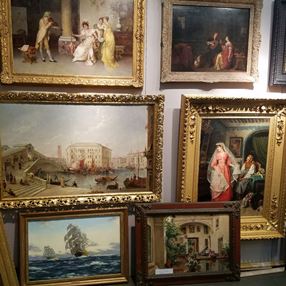 Being involved in shipping fine art for 20+ years, Fine Art Shippers has many important galleries and auction houses among its clients, including the well-known Shapiro Auctions that conducts multiple fine art sales a year, with a focus on American, European, Asian, Latin American, and Russian art. Moreover, we are proud to be the preferred and recommended art shipping company by this amazing auction house that is known for establishing record prices for numerous artists.
Our latest collaboration with Shapiro Auctions has brought Fine Art Shippers much pleasure, especially taking into account all those incredible art pieces we moved for them. The previous week was indeed extremely busy for our team of fine art handlers who were engaged in packing and moving auction objects after they had been sold at the International Fine and Decorative Art Sale held on October 18. It was an honor for us to be chosen among many New York Art moving companies for such a delicate job.
Shapiro October sale of international fine and decorative art featured many exceptional pieces of painting, drawing, sculpture, as well as decorative and religious icon art, starting from the 16th century. Among the highlights of the sale, we can mention the following:
"Hawaiian Dream" by Jim Dine (2013)
Acrylic and sand on canvas. Estimated at $95,000 – 125,000. Sold for $173,000.
"Boyarina" by Klavdi Lebedev (1903)
Oil on canvas. Estimated at $60,000 – 80,000. Sold for $62,500.
"Family Couple" by David Burliuk (circa 1950s)
Oil on canvas. Estimated at $15,000 – 20,000. Sold for $93,750.
"Mother and Child" by Le Pho
Oil on canvas. Estimated at $35,000 – 45,000. Sold for $43,750.
"Jeune fille se coiffant" by Mai Trung Thu (1966)
Ink and gouache on silk. Estimated at $30,000 – 40,000. Sold for $37,500.
"Les Chrysanthemes" by Maurice De Vlaminck
Oil on canvas. Estimated at $27,000 – 35,000. Sold for $31,250.
"Still Life with Cards" by Vladimir Nemukhin (1989)
Oil and cards on canvas. Estimated at $17,500 – 22,500. Sold for $22,500.
It is also worth noting that in addition to a great collection of paintings and other fine art pieces, there were several stunning examples of antique jewelry, including a Faberge aquamarine, diamond, and gold pendant brooch (early 20th century) sold for $20,000.
It was a memorable experience for our art shipping company to help deliver all these fantastic masterpieces to their new owners. We are looking forward to continuing our collaboration with Shapiro Auctions!