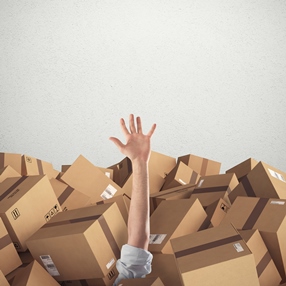 Whether you are moving luxury items yourself or with the help of a professional fine art shipping company in NYC, you need high-quality corrugated boxes and a whole range of other packing materials to protect your valuables in transit. Moreover, in many cases, it is of utmost importance to additionally order custom wood crates for the most fragile and delicate items. It is no wonder that after the hardest part of the move is complete, you are likely to find yourself among lots of used boxes and packing leftovers. So the question is what to do with all this stuff?
While custom wood crates used for moving luxury items are better to keep for the next move, cardboard boxes are not something you want to see in your new home. However, do not hurry to just throw them away! Yes, you will hardly use old corrugated boxes for moving fine art in future, but you can still make the most of them. What are your options?
1. Give them away to your relative/friend who is moving soon.
Think about your relatives and friends who may be interested in getting your used boxes that are still in good condition. Charities are also a good option.
2. Sell your used boxes.
Do not forget that you can also have a few extra bucks by selling boxes left after moving luxury items. Advertise them, and chances are that you will find a buyer. You can do the same with your other packing supplies.
3. Use them as storage containers.
There are always items that you do not need at the moment, so why not turn some of your moving boxes into somewhat storage containers? It is a practical storage solution that won't cost you a penny.
4. Save high-quality boxes for future usage.
As it has been already said, used boxes are not suitable for moving luxury items. However, you can still use them for moving your other household stuff.
5. Recycle used cardboard boxes.
The good news is that cardboard boxes are biodegradable, so you can easily take them to the nearest recycling bins or recycling center. Protecting environment can sometimes be very easy!
Now that you know what to do with your old cardboard boxes used for moving luxury items, you can make the most of them. There is always a better solution than to simply throw them away!