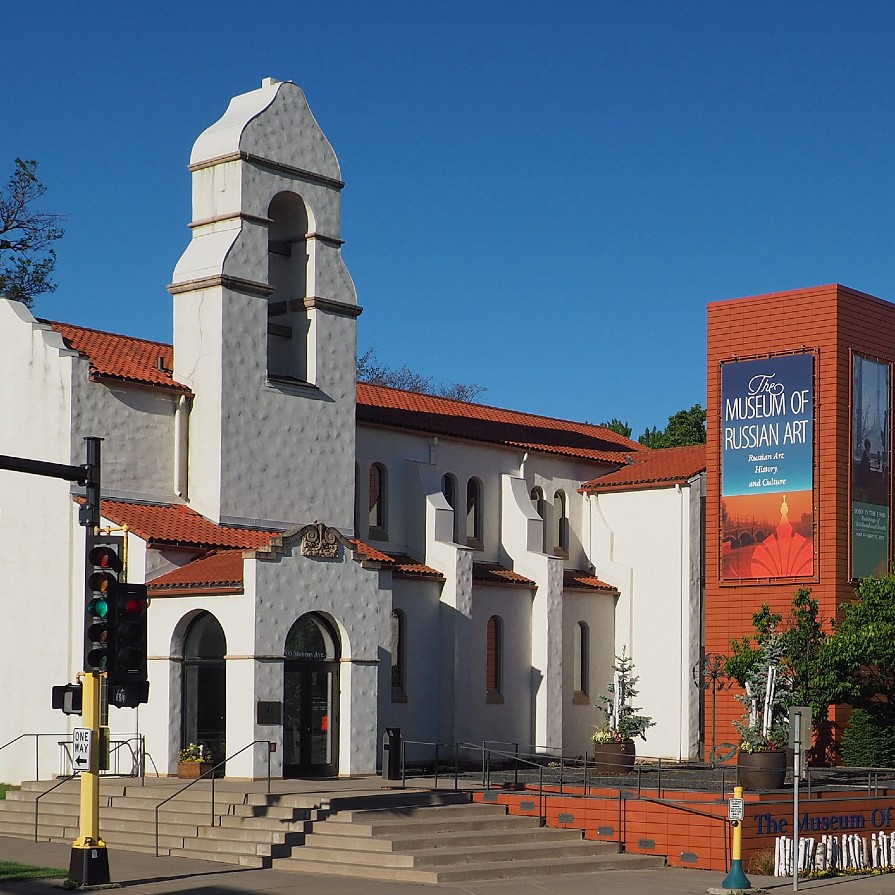 This year marks the 20th anniversary of The Museum of Russian Art since its founding in 2002. With its rich and comprehensive collection, encompassing thousands of works, TMORA holds a unique position among American museums. We sat down with the museum's Executive Director and President, Mark J. Meister, to talk about TMORA's history, concept, and mission.
The Museum of Russian Art: Inside a Unique Collection
The exhibition program of The Museum of Russian Art is very diverse and covers not only the art of the 20th century but also cultural and ethnographic aspects such as New Year masquerades, Christmas in Tsarist Russia, traditional Ukrainian dresses, Russian lacquer miniatures, and much more. How did the collection originate and grow? What is its focus?
Raymond Johnson began as a collector and dealer in the 1990s. And it was not until 2002 that the museum was founded. It became a nonprofit organization, separate from the work Raymond Johnson did as his business. The collection began with 20th-century art, primarily Soviet-era socialist realism, but has since expanded considerably to include some 19th-century works. We have the largest collection of nesting dolls in the United States and probably the best museum collection of socialist realism outside of Russia, and it has grown considerably in recent years thanks to the contributions from the Jurii Maniichuk & Rose Brady Collection, which includes works by Soviet-era Ukrainian artists. Today we have over 7,000 objects in the permanent collection. As in many other museums, only a small portion of these are on display at any given time. New additions come only through donations, as we have no fund for purchases.
Aside from conservation, such a large collection requires a lot of research. What kind of work do you do in this regard?
Our research tends to be exhibition-based. It usually takes the form of didactic labels and audio tours. We also publish catalogs, although not for every exhibition, as we don't have enough resources for that. Our only curator, Maria Zavialova, does a great job taking care of the collection and planning exhibitions. She is from St. Petersburg and grew up in the Soviet era. So when she gives her talks or gallery tours, she offers a perspective that most of us Americans would never have. Because we live in a different environment, we can not see the underlying stories of the works that she reveals thanks to her background. And I always tell her that this is such an important aspect of what she brings to the museum.
What are your favorite works in the permanent exhibition? If you had to name three of them, what would they be?
One of my favorite paintings is "Motherland Greets a Hero" by Ukrainian artist Mihailo Khmelko. It depicts Nikita Khrushchev greeting Yuri Gagarin after his first flight into space. It always reminds me of this famous episode: Gagarin walking down the red carpet with his shoelace untied. It's not in the picture, but it's a well-known story that makes the scene so human and relatable.
Another canvas I particularly like is "Among the Birches" by Akhmed Kitaev, featuring a young woman in a forest. Her clothes match the trees, to the extent that it's hard to discern her figure. Your gaze wanders until you catch the sight of her smiling face, and from there you begin to recognize the rest of her. I like this play of colors and shades. This work is a favorite among museum visitors.
There is also "Try Some, Dear" by Valery Kovinin. This genre painting shows an Uzbek man cooking a traditional pilaf dish in the open air. The artist captures him pausing while he drinks tea and observes something beyond the picture frame. I like the inviting nature of this painting and the experience of being outdoors on a beautiful day, enjoying a meal at an open-air canteen.
And in your experience and observations, what does your audience appreciate most about the collection?
Originally our exhibition program focused mainly on socialist realism works. And those are still the favorite of the public. But we also get comments that people like the diversity of the collection and enjoy learning about different aspects of Russian art, including nonconformist Soviet art of the second half of the 20th century. Other institutions in the United States focus on particular periods or art currents. For instance, the Zimmerli Art Museum at Rutgers University is dedicated exclusively to nonconformist art. Hillwood Estate, Museum & Gardens in Washington, D.C., shows the art of 19th-century Imperial Russia, while Springville Museum of Art in Utah specializes in Russian Impressionism. In this regard, the variety and scope of our collection, which spans the last 150 years, gives us a unique position in this country.
The Museum of Russian Art also has a rich program of events? What is your approach to it? How does it complement the exhibitions you do?
We operate as a cultural center with a lot of public programs, including lectures, meetings with authors, music, and theater performances. The museum is located in an old church building, the acoustics of which are particularly favorable for musical events. Russian classical music is very popular with our audience. Thus, a while ago we finished a series of performances of Eugene Onegin – and with 120 seats in the gallery, the opera was almost sold out. As with the exhibitions, we try to give visitors a broader picture of Russian art, and our program also includes contemporary and medieval music. Now we are gradually reviving our live events, which were put on hold during the pandemic when we moved to virtual space.
And finally, a personal question: what do you love about your job? How is work at TMORA different from your previous museum experience?
My museum background is quite diverse, perhaps more diverse than that of many museum directors. I have degrees in art history and archaeology. Early in my career in the mid-1970s, I worked in the education department of the Minneapolis Institute of Art. Later, I directed a museum of American art in Indiana, from where I moved to the Minnesota Children's Museum. It was an exciting experience, combining art and science. I then returned to my archeological background and was executive director of the Archaeological Institute of America, the largest archaeological organization in North America. In addition to the research aspect, the AIA did a lot of educational work, including a TV show on archaeology that we produced for four years. And then there was another career shift, from art and archaeology first to science and then to literature: from 2000 to 2017, I directed the Dayton Society of Natural History, and then I was the first executive director of the Dayton Literary Peace Prize Foundation. I purposely wanted to come back to Minneapolis for family reasons. TMORA is a smaller institution than the one in Ohio. But that's what I love about it. It's an exciting place in terms of an audience that is very engaged and interested. And it's a beautiful place that I enjoy coming to every day. This year we are celebrating the museum's 20th anniversary. We are going to do a major exhibition with selected works from our permanent collection, many of which have never been seen by the public before. All of this brings me a lot of joy.
Photo courtesy of The Museum of Russian Art