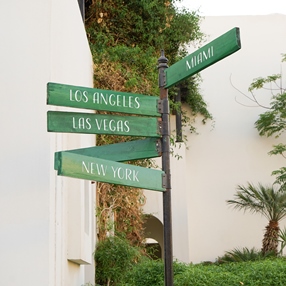 Fine Art Shippers is a dedicated team of experienced shippers of fine art, providing fast and secure artwork delivery services to any destination in the United States. Moreover, our expertise is not limited to only shipping paintings and mid-size pieces. Our art handlers are true specialists in handling and moving sculptures, statues, and art installations of any size and weight, which makes Fine Art Shippers a reliable partner for absolutely any art shipping challenges you might have. What is no less important, in addition to our customized international and local art moving services, we also offer a variety of art shuttle options to meet any budget. In particular, this applies to our regularly scheduled art shuttle Miami – New York, circulating twice a week.
Art shuttle Miami – New York
Among all exclusive art shuttle options, art shuttle Miami – New York is perhaps the most popular. After all, these two cities are known for their vibrant art scenes that are home to many prominent contemporary artists, art galleries, museums, auction houses, and international art fairs. In fact, millions of art pieces are transported between New York City and Miami every year, making them the hottest destinations for art collectors and connoisseurs from around the world. At Fine Art Shippers, we know that like no other as our work is directly related to the transportation of fine art and antiques, and, thereby, we are especially proud to offer our clients a bi-weekly art shuttle Miami – New York.
The benefits of our art shuttle Miami – New York
First of all, you won't find a more affordable option to safely transport your artwork between these two cities than our art shuttle Miami – New York. Besides, since we offer free shipping quotes for all our services, you can easily check the rate by simply filling in the online form on this website.
Secondly, as it has been already said, we can ship art and antiques of any size and weight, be it a painting or a large outdoor sculpture. The same applies to furniture pieces, electronics, appliances, glass display cases, and other large yet fragile items that require special handling.
Finally, we also offer professional art packing, crating, storage, installation, and art insurance services, making Fine Art Shippers a one-stop solution for any art moving need. Thus, our art shuttle Miami – New York is not only about safe and affordable transportation of your treasures but also about the best shipping experience ever. Try it once, and you will surely come to Fine Art Shippers again!