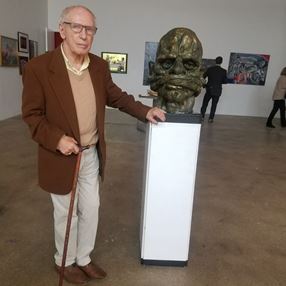 At Fine Art Shippers, we have been shipping artwork internationally for many years, and over this time we have established strong links with many renowned art dealers, galleries, and museums located throughout the world. Moreover, our team of fine art handlers is proud to work with some of the best contemporary artists, helping them move their works from the studio to an exhibition, art collector, or gallery in almost any country on earth. In particular, we have many important clients in Russia and possess a lot of experience in shipping artwork between the US and the former republics of the Soviet Union. This all allows our art shipping company to be the best choice when it comes to moving fine art and antiques to or from Moscow, St. Petersburg, and other Russian cities.
In the past years, Fine Art Shippers took part in many New York art exhibitions of works by Russian artists, both established and emerging, working across varied media and in multiple disciplines. One of them is the prominent painter, sculptor, writer, and art collector Mikhail Zvyagin, who now lives and works in the United States.
Mikhail Zvyagin was born in Leningrad (St. Petersburg) in 1931. This outstanding artist not only survived the blockade during the Second World War but also managed to depict all those atrocities in his art. Throughout his career, Zvyagin has shown himself in almost all genres of painting, from portrait to still life and landscape, from eschatological to animalistic painting. Moreover, he is also a talented sculptor, whose works can be found throughout the world, including Pushkin's bronze bust in New York and the "Sorrow" sculpture dedicated to the victims of the Siege of Leningrad in Gohrisch, Germany. Mikhail Zvyagin is now 86 years old, and he continues to work and exhibit internationally. For today, his artworks are on view at the Russian Museum, the Hermitage, the Zimmerli Art Museum at Rutgers University, the museums of Smolensk, Voronezh, Tula, Omsk, and many others, not to mention private art collections in the United States and Western Europe.
At Fine Art Shippers, we have been shipping artwork internationally for Mikhail Zvyagin for many years, and each time, it is a great pleasure for our team to work with such a talented artist. We highly recommend that you visit his exhibitions and see his art with your own eyes!