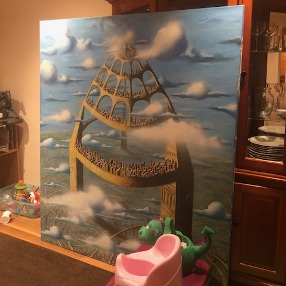 Fine Art Shippers is a professional fine art shipping company working with dealers, galleries, auction houses, museums, and various art-related institutions. For example, we ship fine art and antiques for Shapiro Auctions, iGavel Auctions, Art d'Aurelle, Galleria ZERO, Clic Gallery, Ashville Fine Arts & Antiques, and many other art business professionals from around the world. Besides, at Fine Art Shippers, we are happy and excited to be of service to many talented contemporary artists, shipping art work for them to different exhibitions and shows and providing them with a full range of other art logistics services. What is no less important, our team has extensive experience in shipping art work of any size and weight, from super large and heavy glass sculptures by Henry Richardson to extremely delicate papier-mâché art pieces by Marie Talalaeff.
It goes without saying that Fine Art Shippers is also proficient in shipping paintings and works on paper. For example, not so long ago, we had a chance to work with the amazing artist Artem Mirolevich, whose marvelous art pieces have been exhibited in many parts of the world.
Artem Mirolevich
Artem Mirolevich is an award-winning Belarusian-born artist living and working in New York. Artem Mirolevich is known for his absolutely mind-blowing artworks depicting ancient civilizations and richly articulated imagined worlds. Artem works in a wide variety of mediums, using different techniques and colors to create his unique worlds that draw connections with the artist's own heritage and other cultures.
Artem Mirolevich has exhibited his fantastic works in over 100 museums and at some of the most prestigious international art fairs and shows, including Art Basel Miami and The Armory Show, as well as at many prominent galleries around the world. It is needless to say that shipping art work for this amazing artist was an honor for Fine Art Shippers, and we definitely look forward to our next collaboration.
Fine Art Shippers is delighted to work with talented contemporary artists, such as Artem Mirolevich, providing them with professional fine art moving and shipping services both nationally and internationally. Moreover, we are proud to offer some of the most competitive rates around, with same-day shipping quotes available on request. In other words, whether it comes to shipping art work to another country, or you just need expert art installation assistance, please feel free to contact Fine Art Shippers. We are always ready to help!