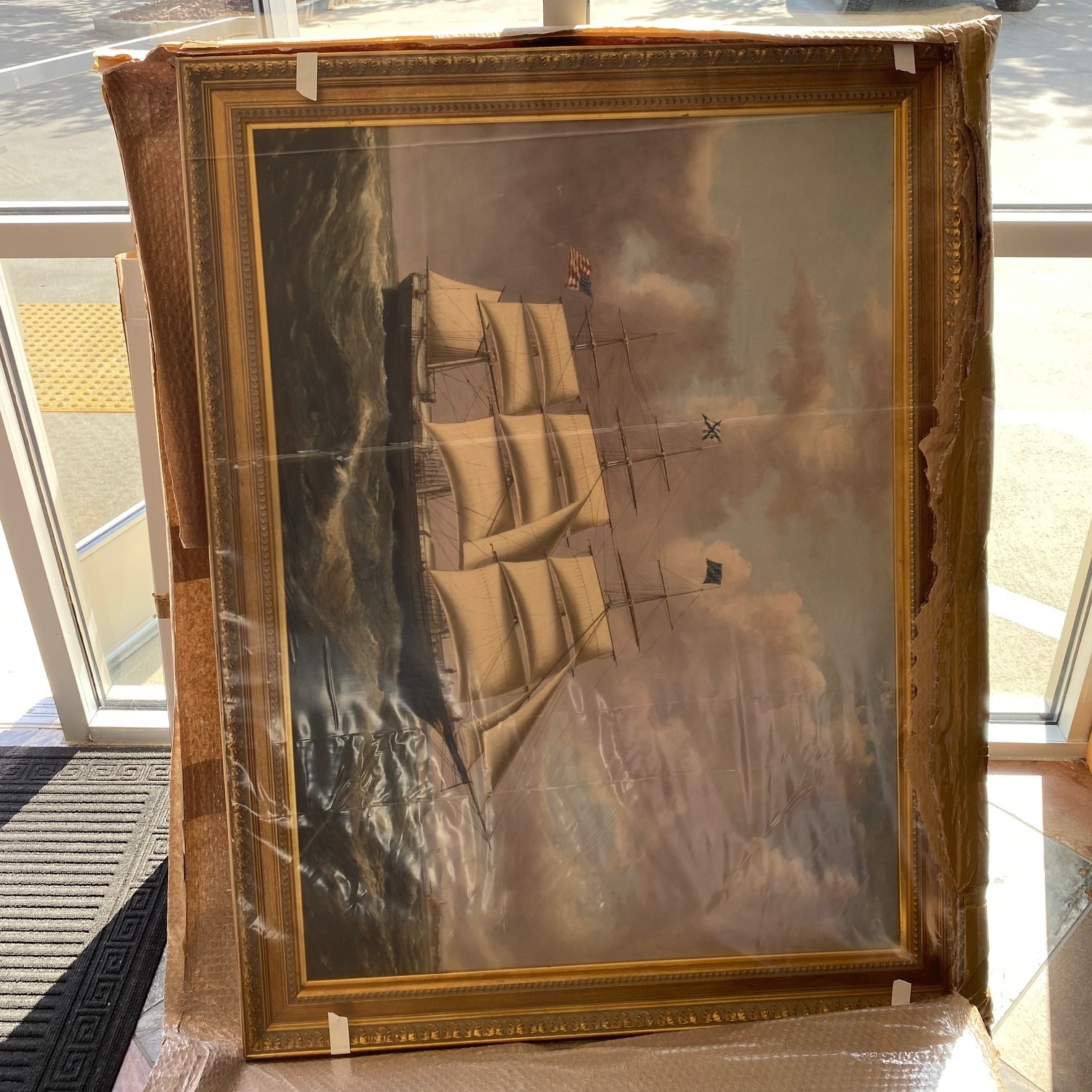 California is one of Fine Art Shippers' most popular destinations. We frequently visit the state to deliver artworks and antiques to our clients. For example, not so long ago, we had the pleasure of shipping a gorgeous framed painting of a ship standing tall against the cloudy sky. At Fine Art Shippers, we understand the value and individuality of each artwork and always choose the best materials to pack works of art, providing the client with the best painting delivery option according to their requirements and needs. 
Painting Delivery Service to California by Fine Art Shippers
A lot of work goes into making sure each piece of art is protected and safe during transit. The maritime art piece we shipped to California went through a long process of preparation before it was loaded into our art truck and transported to its destination. First, the painting was packed by our professional art handlers. To protect the delicate work, they wrapped it in 4 mil art plastic and covered it in kraft bubble material. The next step of the painting delivery process was putting the piece into a special art box made out of thick durable cardboard.
After the packing stage was finished, the painting was delivered to California by one of our cross-country art shuttles. Art shuttles are specifically designed to transport delicate and fragile items. They are climate-controlled and equipped with everything necessary to prevent gentle valuables from getting damaged. Apart from being incredibly secure, our art shuttles are also cost-efficient, making them a great choice for both art businesses and individuals.
After the piece was delivered to the client, our trained team unpacked it to ensure it arrived in perfect condition. Sometimes, professionally packed items can be tricky to uncover, but any potentially dangerous unpacking mistakes can be easily prevented if the job is done by experienced art handlers.
Fine Art Shippers provides painting delivery and packing services all over the US. Shipping art with our company is easy and hassle-free: our experience in the field of art logistics allows us to offer customized solutions no matter the complexity of your order. If you are interested in booking an art shuttle delivery service, do not hesitate to contact our team.