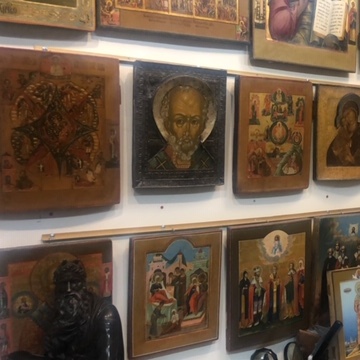 There are many forms of art, but religious art stands out from the crowd. Whether it comes to painting or sculpture, each piece of religious art is not only a beautiful object able to adorn any collection but also an expression of certain religious ideals, a somewhat moral message that carries a deep meaning. This is especially true for antique religious icons created by Greek and Russian iconographers years ago. Such artworks are now in the collections of many leading art museums, and they can also be found at specialized galleries and antique stores all over the world. For example, at Fine Art Shippers, we highly recommend that you visit Vladimir's Antiques at Showplace Antique + Design Center in New York.
Religious Icons & Artifacts at Vladimir's Antiques
Vladimir's Antiques is an amazing antique store founded by Vladimir Kasykin in New York in 1992. Vladimir Kasykin is a highly educated specialist in religious icons, ancient Russian art, and artifacts, who serves many private collections, museums, and auction houses both in the US and abroad. His antique store is known among seasoned collectors of religious art and artifacts for its fabulous selection of rare and unique items spanning centuries.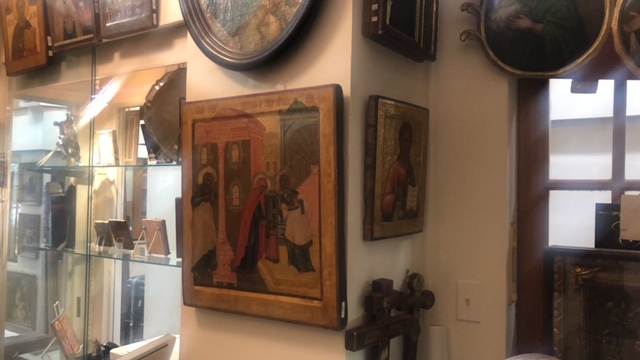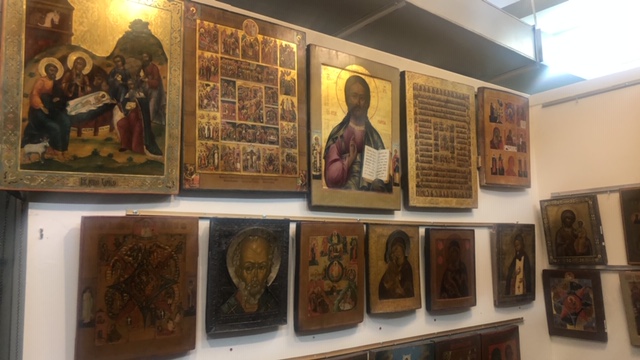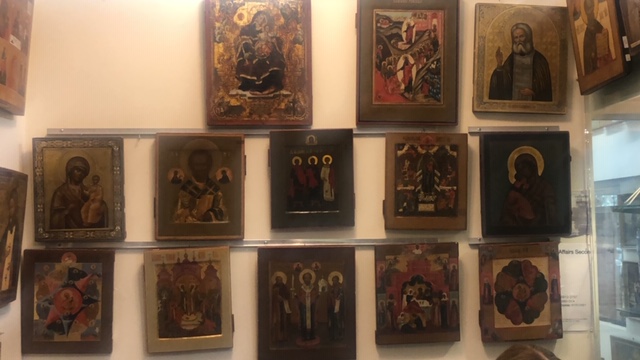 The selection of religious art and artifacts at Vladimir's Antiques is truly impressive. These include Russian and Greek icons, with some pieces coming in beautiful silver oklads, crosses, reliquaries, pendants, church communion items, and more. Besides, Vladimir's Antiques specializes in Russian silver and bronzes, niello boxes, porcelain, coins, medals, paintings, and a whole range of other collectibles.
Vladimir's Antiques is located at the prestigious Showplace Antique + Design Center in the Flatiron District of Manhattan. If you are interested in buying exceptional works of religious art, antique icons, or original artifacts, then you should definitely visit Vladimir Kasykin's store. Very recommended by Fine Art Shippers!