Divna Pesic is a New York-based artist who creates extremely detailed surrealistic paintings filled with uncanny, dreamlike imagery. A professional athlete in the past, she has excelled in both art and sports. In an interview with Fine Art Shippers, she spoke about her unconventional journey, how her artwork became part of the Buckingham Palace collection, and why she always follows her gut.
Artist Talk: Divna Pesic on Queen Elizabeth and Intuition
I was impressed with your journey as an artist and a professional athlete. You were quite young when you started in both arts and sports. Can you tell us how it happened?
Divna Pesic: I began in sport at the age of six, starting with rifle shooting under the guidance of my father, who was an accomplished shooter in the former Yugoslavia and the best coach for rifle shooting in Macedonia of all time. Rather than playing with dolls like many children, my sister and I engaged in this sport, which was popular in our homeland, Macedonia. Over the years, I have achieved significant success, setting 37 national records in both men and women's categories for air rifle and sport rifle, and 3 positions events. I became a Balkan champion twice, participated in two Olympic Games, and won numerous international and World Cup competitions.
My artistic inspiration came from Salvador Dali, whose work I encountered at thirteen. Thanks to him, I started oil painting. I was greatly impressed by his use of colors and the surrealistic world he created. He truly sparked my passion for art. I'm a self-taught artist who created my own technique of painting with fingers. I never went to art school: I completed a degree in philology and a master's in economics. But art has been my true vocation throughout my life. Now, after more than thirty years in oil painting, I consider myself a professional artist.
You have received several awards, including first place at American Art Awards, World Art Awards, Luxembourg Art Prize, Top Art Awards, and Career Art Awards. How were you selected? What do they mean to you?
For some, I submitted applications, while for others, the organizations reached out to me directly. The recognition from these awards is something I take great pride in because they acknowledge the value of my work and the oil painting technique I've developed. We artists are often deeply emotional, and being recognized for our efforts means a lot and gives us motivation to continue. Yet, the biggest motivation comes from the reactions of my audience, their excitement and compliments when they feel the vibrant energy and positiveness of my art.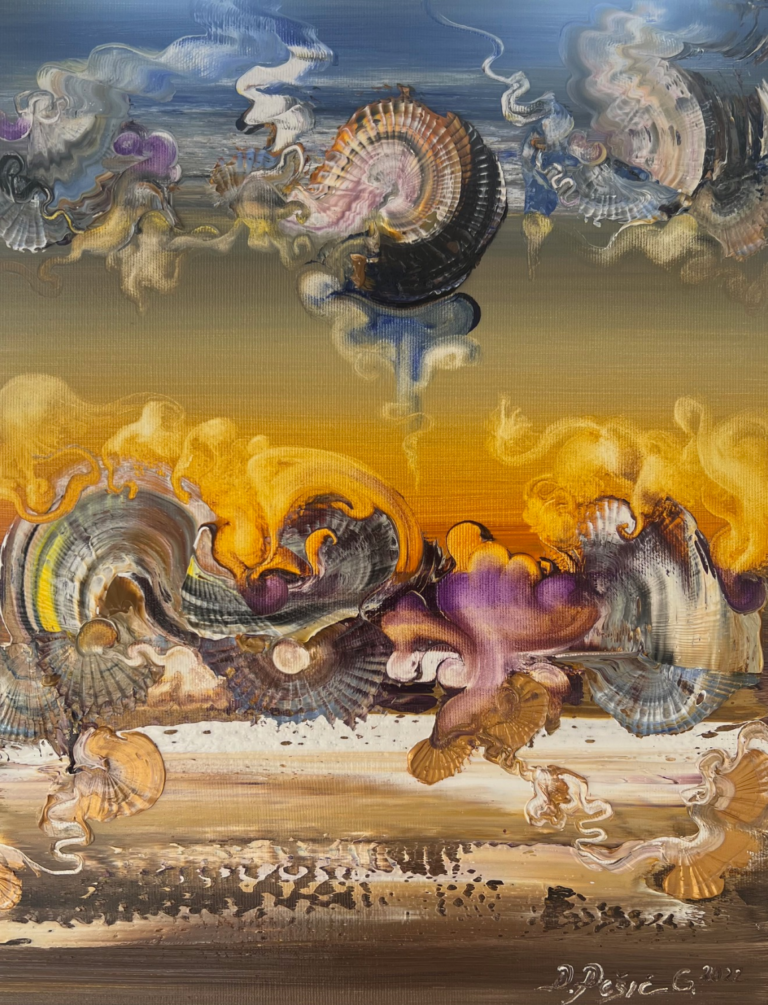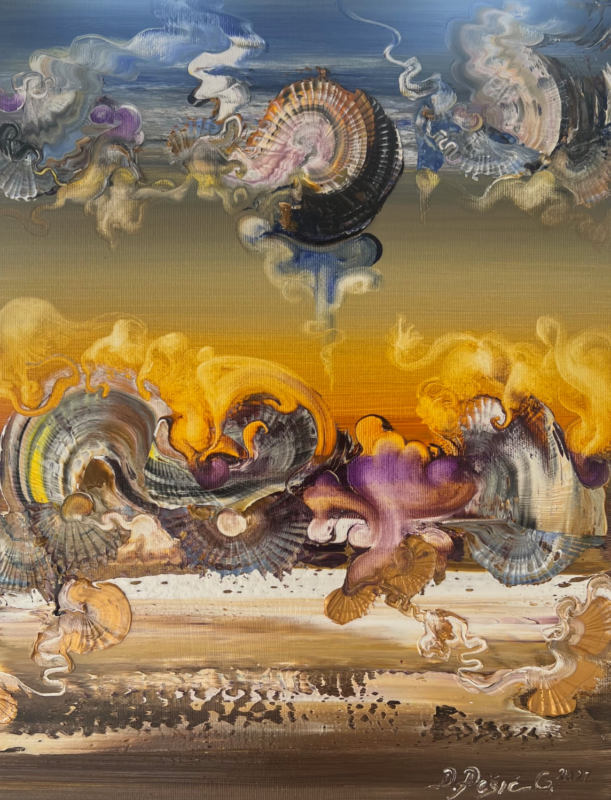 Can you tell me more about your technique? What does it involve?
I use only high-quality oil paints, which I apply directly with my fingers and a spatula. I only add my signature with a brush. The process involves layering copious amounts of paint onto the canvas and then selectively removing—"digging out"—layers to achieve the desired shape and effect. This way of painting does waste a lot of paint, but I think it's worth it to make something really special.
I'm very curious about the fact that one of your paintings is held in the collection of Buckingham Palace. How did it end up there? Can you share this story?
I was honored to be invited to Queen Elizabeth's birthday as an Olympian. I was uncertain what present would be suitable and decided to gift her a small oil painting "Protecting My Pride" She graciously sent me a letter afterward expressing her enjoyment of my art and her gratitude, saying that the artwork resonated with her.
Do you have any type of creative routine?
I've built my daily routine in a way I'm able to take care of my family. I cook three times a day. I exercise every day. My children and my husband prefer homemade meals because I've always encouraged eating that way, the way I grew up. Although I don't paint every day, when inspiration strikes, I head to my studio and begin working, regardless of whether it's day or night. I become completely absorbed in it. I need solitude to create; this allows me to focus. Most of the time, I rely on my intuition, which guides the process. Strangely, my artworks sometimes predict real events, making me feel as though I possess a special gift.
How do you market your art? Do you work with any art dealers or galleries?
I've never had an art dealer, but I've collaborated with several galleries in Europe and the US. As my children have grown—they are now seven and nine years old, and more self-sufficient—I have more time to reconnect with the art scene. I have plans to engage more actively with other artists and galleries and build a network that will eventually help me market my art where it deserves to be. Currently, I have my website, through which people can buy my paintings: www.divnapesic.com.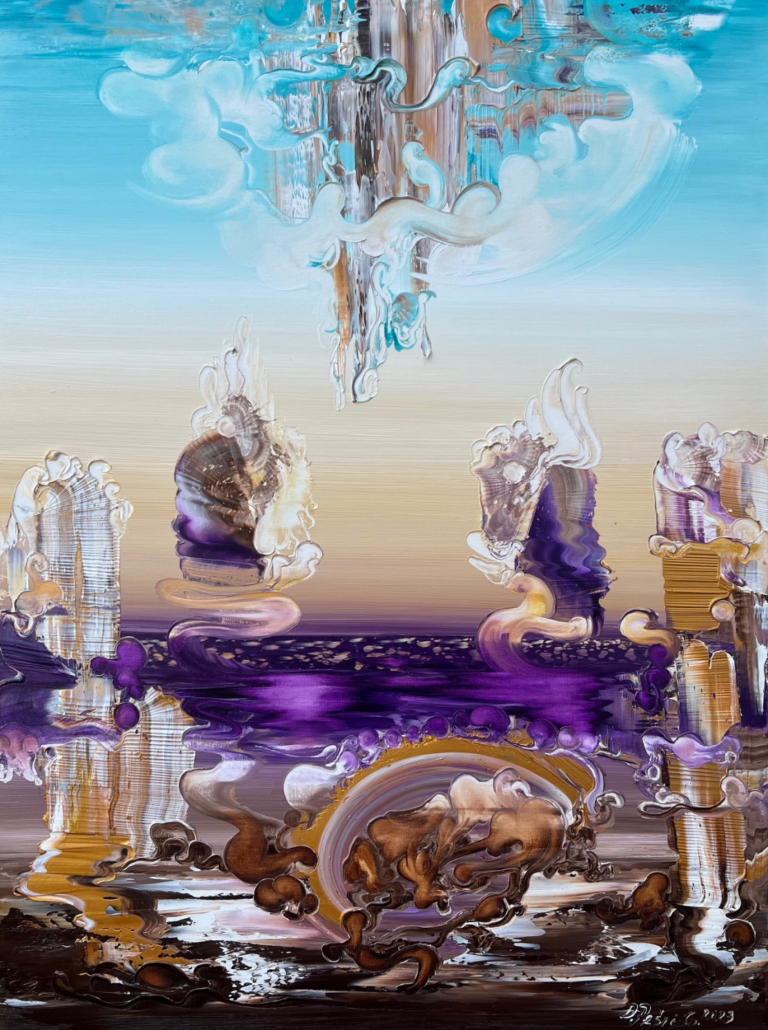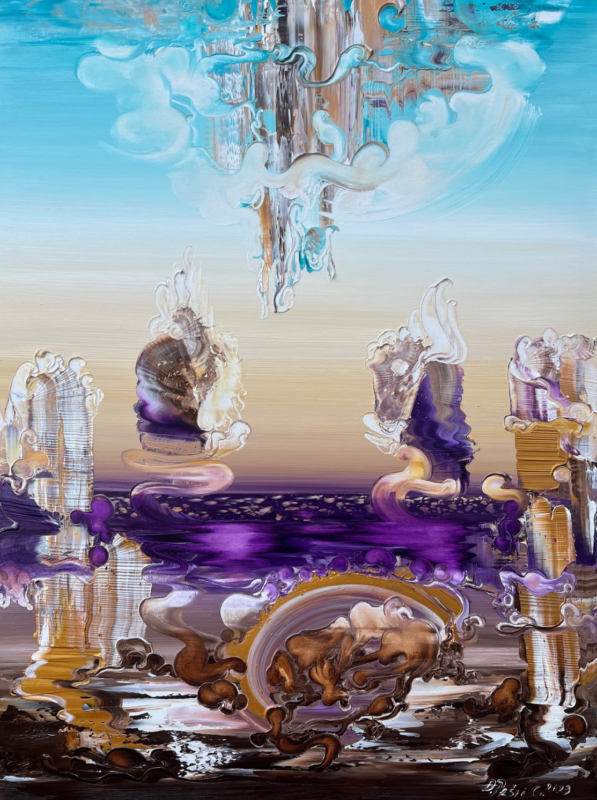 Interview by Inna Logunova
Photo courtesy of Divna Pesic