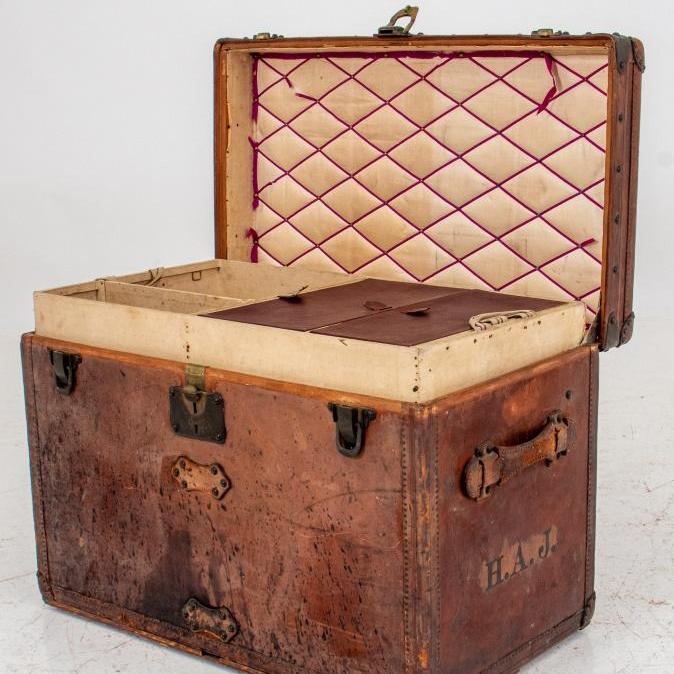 Showplace Luxury Art Design Vintage–more known as Showplace–will conduct the traditional New York City estate auction on July 24, 2022, with the live bidding beginning at 12 PM EDT. You have more than six days to explore the list with the lots and register to bid at one of the leading auction houses in the Big Apple. Showplace is going to present 280 authentic lots, spanning from fine and decorative arts to porcelain and jewelry.
Auctioneers draw customers' attention to the collection of works by American artist Vaclav Vytlacil and fine jewels and furnishings by designers and sculptors Sydney Lynch, Earl Pardon, and Harry Abend. All those items are available for bidding, so make sure not to lose the chance to join the summer event and take part in the bidding wars. Continue reading to get a better look at the offered lots.
New York City Estate Auction on July 24, 2022
"Le Vase Bleu" by Jules Cavailles, $4,000-$6,000
Jules Cavailles was a French painter whose works are represented in leading art collections in France, Finland, and the US. The presented oil painting was signed by the artist and housed in a carved giltwood frame.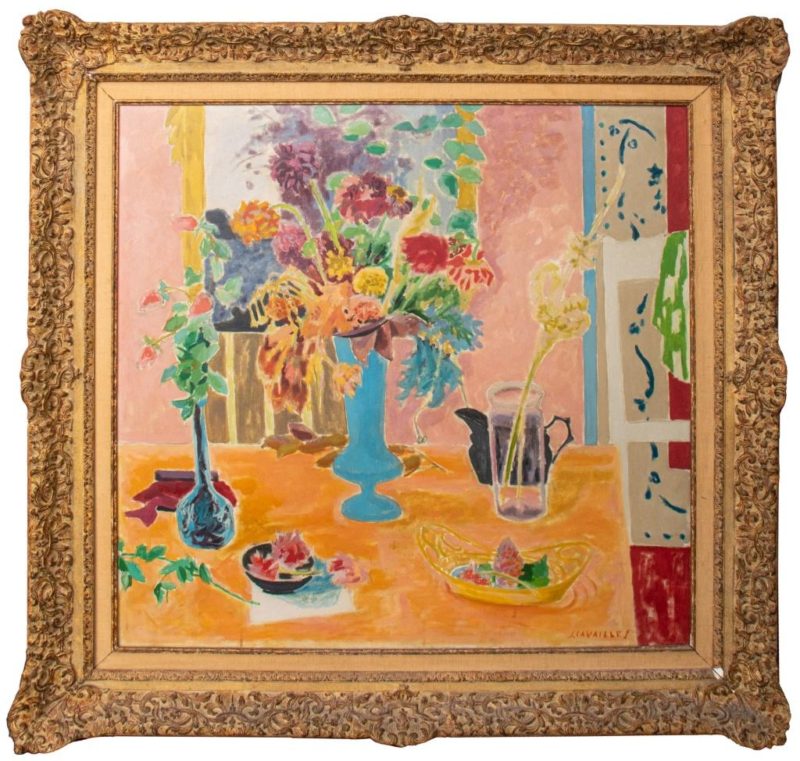 Lounge Chair & Ottoman by Charles Eames for Herman Miller, $3,000-$5,000
A lounge chair and ottoman are made with black leather upholstery by Charles Eames and distributed by Herman Miller. It is worth noting that the latter is the only authorized manufacturer of designs by the former.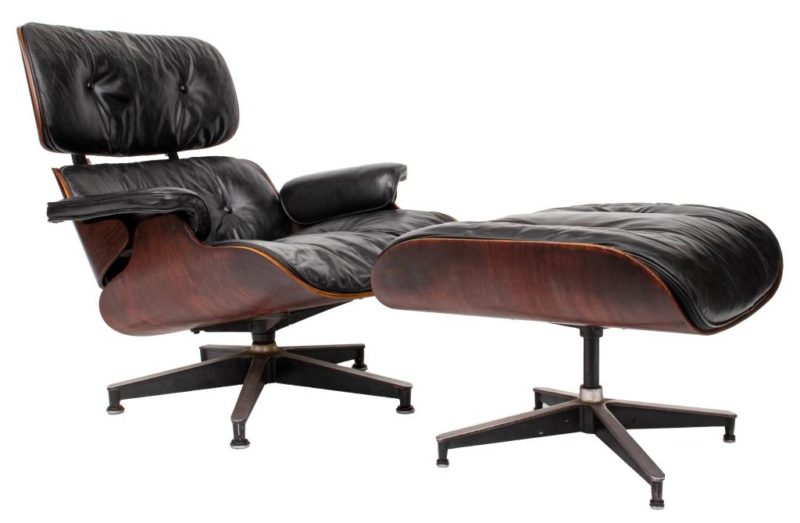 Roman Stone Mosaic Panel, $3,000-$5,000
A Roman mosaic panel is likely to take roots in the late Imperial Period. It features squares, diamonds, and hexagons composed of red, orange, white, and gray tones of tesserae.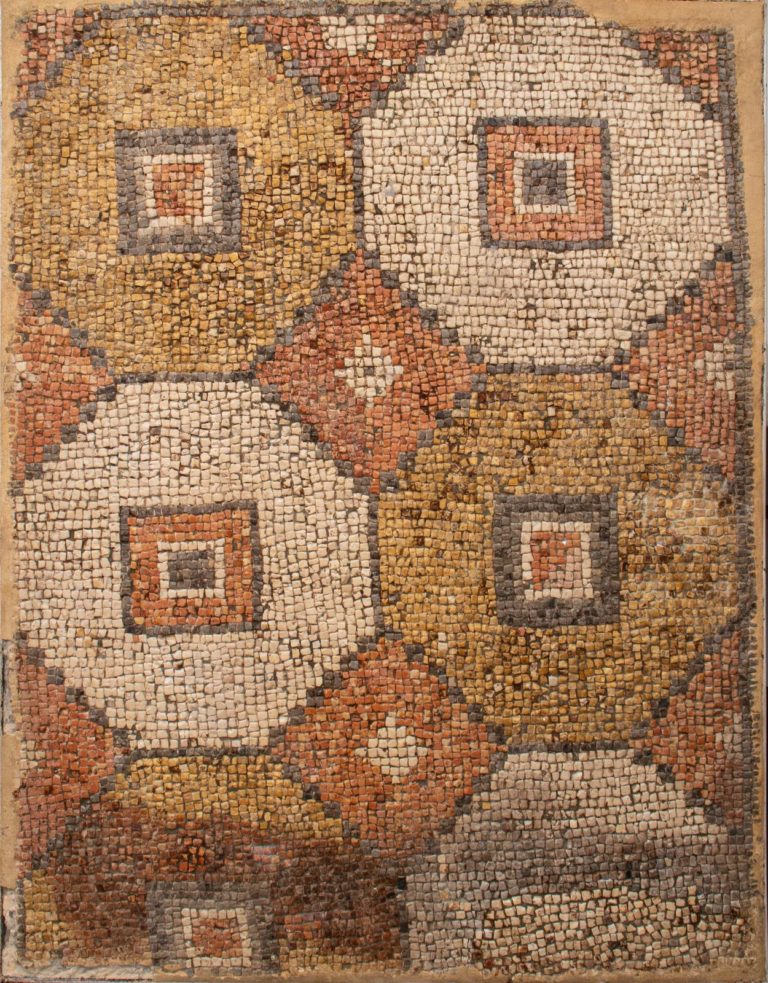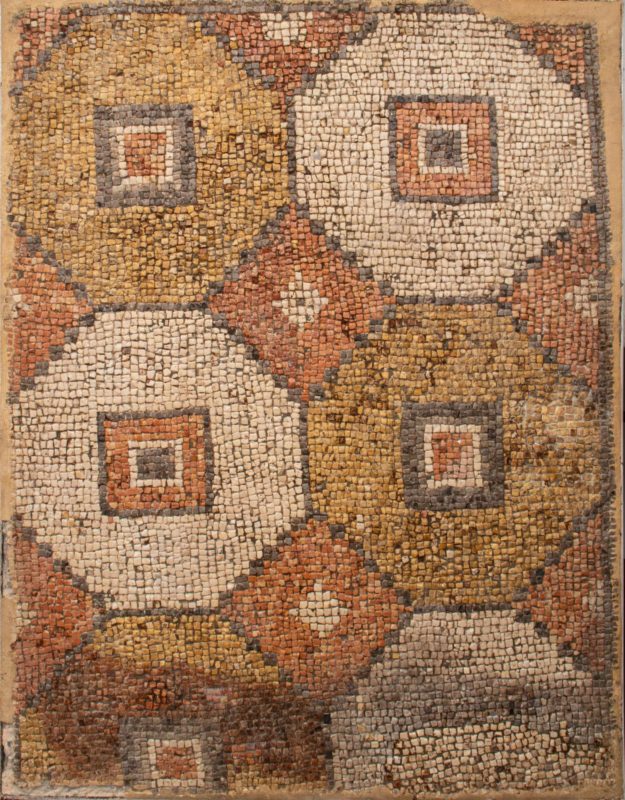 German Neoclassical Mahogany Desk-Bureau, $2,000-$4,000
This fine piece of furniture was most likely to be made in Berlin. It consists of numerous cabinets and drawers, including hidden ones. A very stylish piece of furniture that you can buy at Showplace Luxury Art Design Vintage and greatly benefit from it.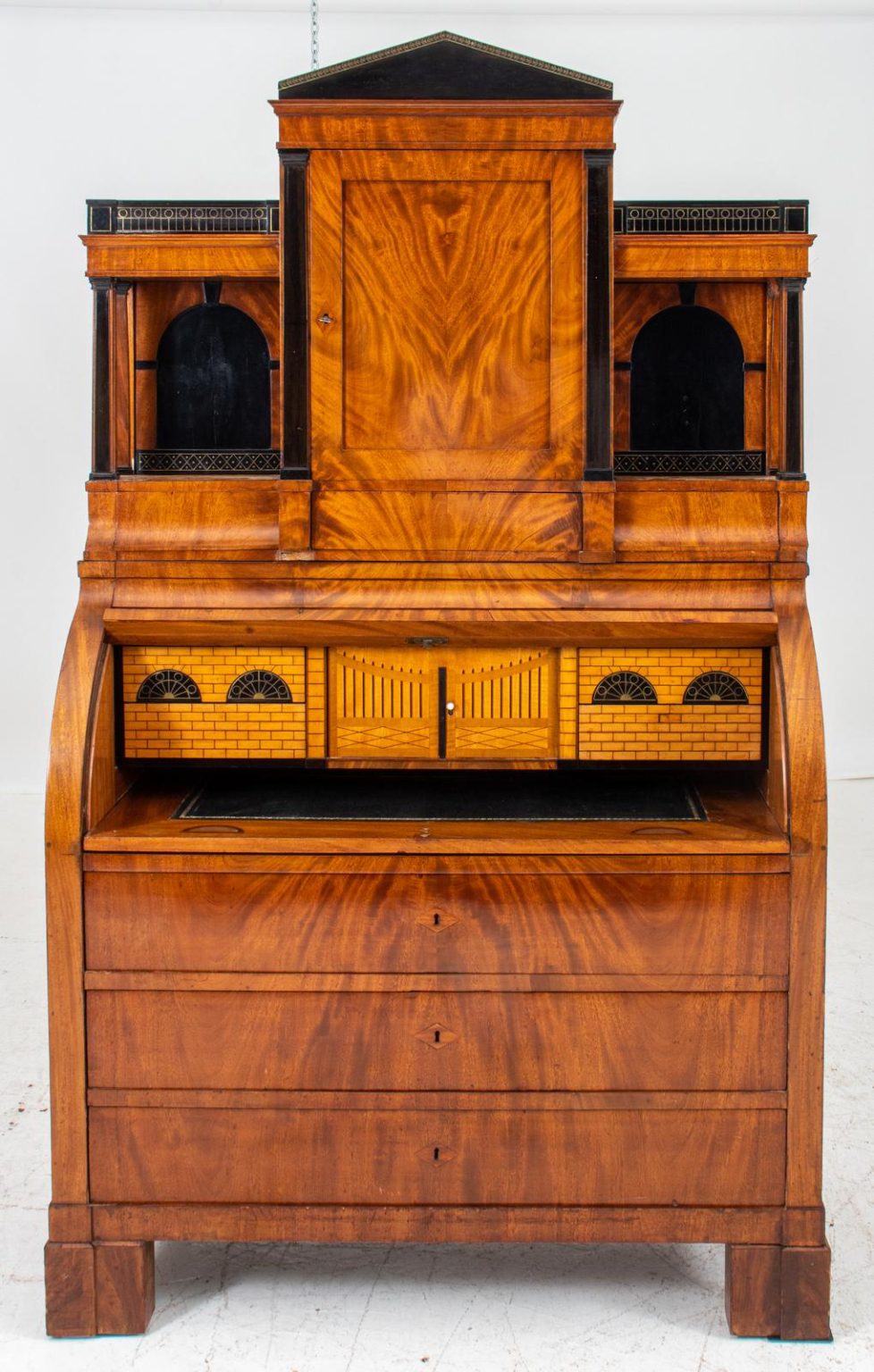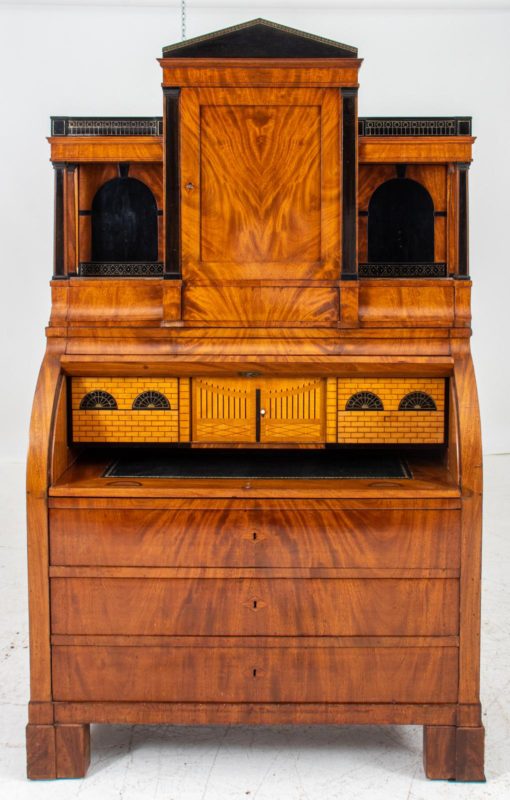 Gilded Bronze and Marble Chandelier, $2,000-$4,000
An empire-style antique chandelier made of bronze and marble is one of the symbols of traditional eclectic design. You have a great chance to win the lot and obtain a special item for your home.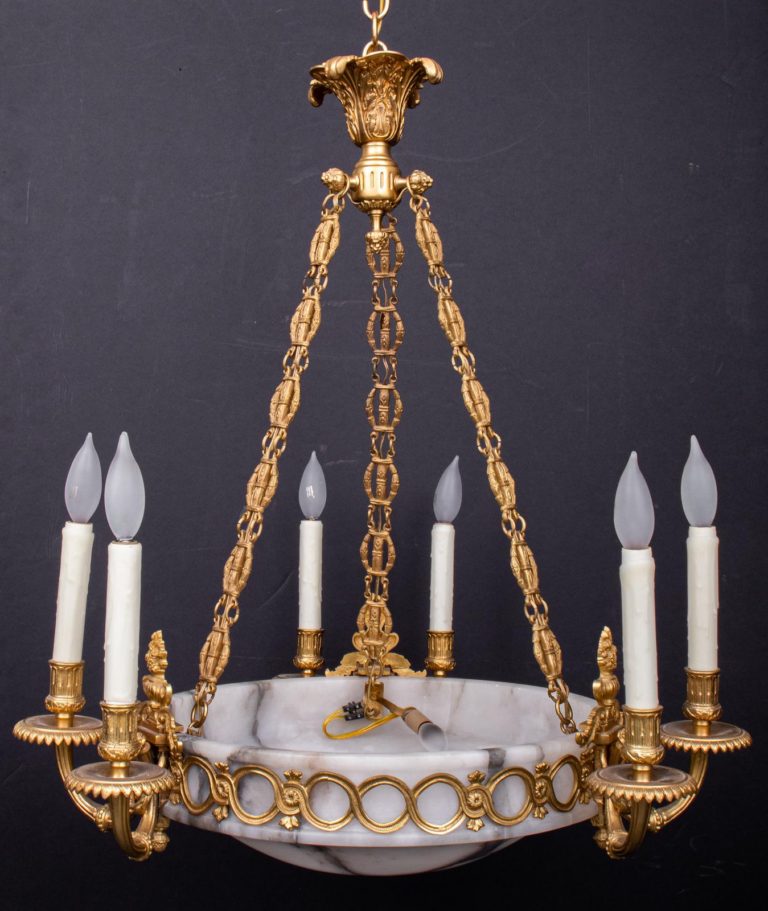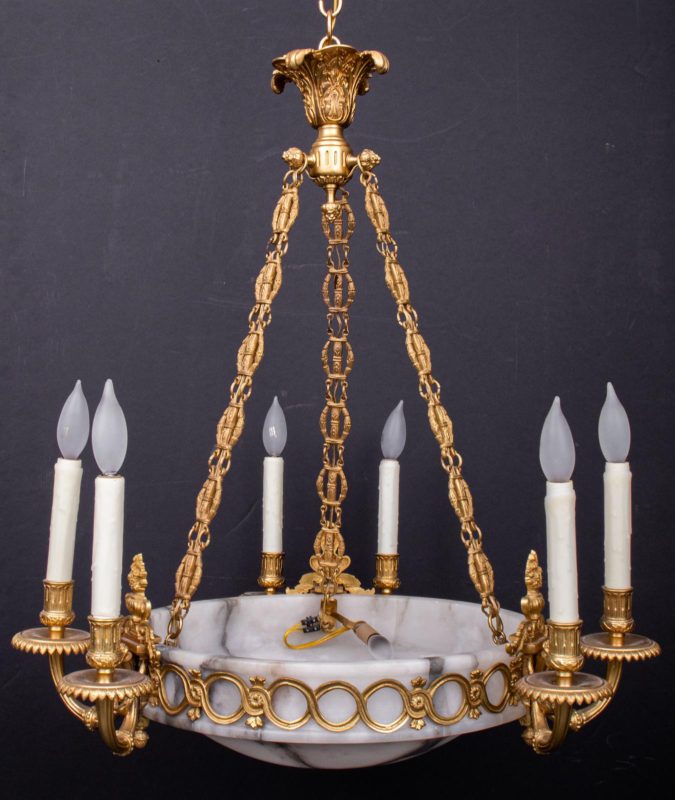 How to Ship Items from Showplace Luxury Art Design Vintage to Your Home?
If you are wondering how to ship purchased items from Showplace Luxury Art Design Vintage to your home, you need to take the time to learn more about Fine Art Shippers. We have been working with the auction house for years and can deliver objects of value right to your doorstep. Contact us to request our professional services in advance!
Photo credit: Showplace Luxury Art Design Vintage/nyshowplace.com