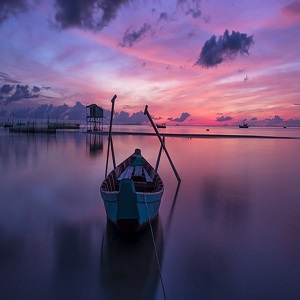 Everyone wants to have a nice, convenient home, so it is important to consider decor that contributes to the feeling of peace and coziness. Blue color is believed to be one of the most popular decor trends of the last years. Therefore, it is possible to use either a marine artwork with painting boat to add this color to your home environment or use pure blue color for walls. All in all, it is very interesting to learn how this color influences our home space.
Color Therapy in Home Decor: Blue Colors and Their Effects
Blue color itself looks very nice and fresh, so it is not surprising that many people prefer to use it in decor as a basic color. Many designers also include pictures with painting boat or any other marine episodes to decorate the houses and make the setting more unique and meaningful. So, what effect this beautiful color may have on inhabitants?
It can make a room a little bit bigger.
Blue is a very light and fresh color; therefore, all its shades can make the room visually bigger. The use of this color is a good solution if you want to make a small room bigger and lighter. Therefore, pay your attention to this color when you choose a color scheme for future repairing.
It is good for relaxation.
Blue and its shades are considered very restrained colors. They are not as strident as red but not as cool as dark blue. Therefore, this color is very helpful for relaxation, and it is very good to use it for your bedroom, for example. A bathroom in blue color is considered a classic variant suitable for every apartment and house.
It positively effects mental concentration.
At the same time, blue color is very good for mental concentration; therefore, it is widespread in schools and offices. However, if you want to add this color somewhere, start with small details: a simple artwork with painting boat is what you need for your study to be more convenient.
It is up to you to decide how your home will look; you may even change the place of residence if you want, but decorative components (especially paintings) will need special handling in case of relocation. To keep them safe, use only professional artwork storage and transportation services by Fine Art Shippers in New York. Our specialists know how to keep valuable items beautiful in any conditions.