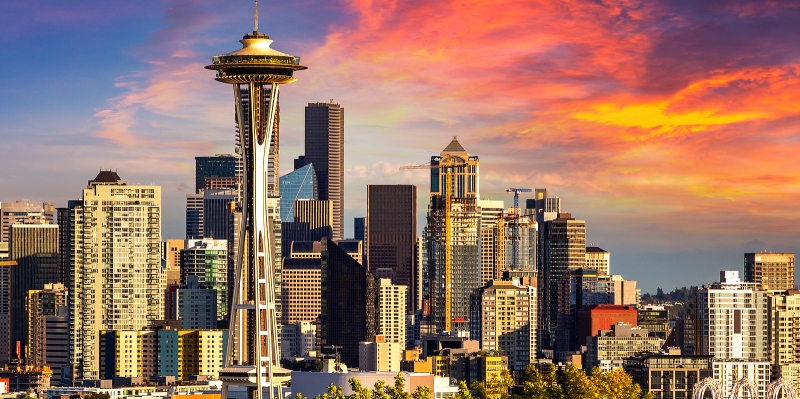 Seattle
If you need to ship fine art to Seattle, request a free shipping quote on our website, and we will do the rest. Our team will call you back shortly to discuss the logistics services, taking into account your requirements and the specificities of transporting your particular works. We cover different regions of the USA, including the Pacific Northwest, and can ship fine art to Seattle quickly and safely.
Seattle is a regional economic and educational center. The city is widely known for its contribution to music culture and high level of art life. Seattle has more than 20 museums and plenty of galleries with regularly rotating exhibitions. The collection of the Frye Art Museum covers the period from the 19th century to the present and includes a lot of paintings, graphics, and sculptures. There are works by Eugène Boudin, Eugène Isabey, Nicolai Fechin, Franz von Lenbach, William-Adolphe Bouguereau, and others. The Henry Art Gallery, the Seattle Art Museum, and the Seattle Asian Art Museum also play an important role in Seattle`s cultural life. The purpose of the museums is not only to preserve and demonstrate artworks but also to engage an audience in art dialog, developing the art community.
The Seattle Art Fair is a landmark event that has been held in Seattle annually since 2015. This art fair unites local and international galleries, collectors, curators, and art institutions. It is, without a doubt, one of the best art events in the Pacific Northwest.
The city itself and its parks are also part of Seattle's art scene. The SODO (South of Downtown) Urban Art Corridor is one such example, which represents a perfect combination of murals and sculpture gardens. There are artworks by Alexander Calder, Ellsworth Kelly, Louise Bourgeois, and other famous artists.
Considering the vibrant cultural life of the city, many people need to ship fine art to Seattle every month. This all makes it quite a popular destination for our art shuttles. We serve many galleries, artists, art institutions, auction houses, and collectors in the region, carefully planning our routes to meet the needs of the local art community.
Whatever your reason to ship fine art to Seattle, you can be sure that your artworks will be handled by professionals. We will take care of the entire process, from packing to interstate transportation to white glove delivery. If you have any questions, please do not hesitate to contact our team.