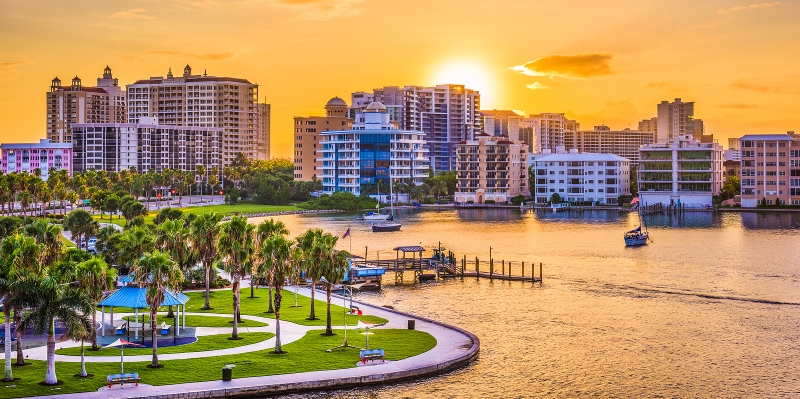 Sarasota
Sarasota is the city you want to return to. Known as a cultural hub in Southwest Florida, it attracts collectors and art lovers from around the United States. At Fine Art Shippers, we are happy to provide our art services in this beautiful part of the country and help all those who need to ship art to Sarasota safely and securely.
Sarasota is indeed a great city offering numerous cultural and environmental amenities. One of the most significant art institutions in the city is the John and Mable Ringling Museum of Art. Its collection features nearly 10,000 artworks ranging from paintings and sculptures to decorative arts and photography. These include works by some of the most outstanding masters such as Peter Paul Rubens, Paolo Veronese, Gianlorenzo Bernini, Frans Hals, Lucas Cranach the Elder, and Eugène Boudin, among others. The Sarasota Art Museum is another must-visit place. This contemporary art museum does not have a permanent collection, but it offers truly amazing rotating exhibitions of 20th- and 21st-century art and artists.
Besides its art museums, Sarasota is known for the Annual Downtown Sarasota Festival of the Arts, a free open-air festival that is held along Main Street. According to Sunshine Artist Magazine, it is in the top 100 art festivals in the USA. Each February, people from around the country go to Sarasota to enjoy this memorable event. It is also the time when the need to ship art to Sarasota is especially high.
As for the galleries and creative spaces, they can be found all over the city. The Englewood Art Center, Art Center Sarasota, the Venice Art Center, Allyn Gallup Gallery, and Art Uptown Gallery are just some of the must-visit places that offer high-quality exhibitions, art classes, and educational programs, making the city vibrant and alive.
At Fine Art Shippers, we ship art to Sarasota every 2-3 weeks thanks to our art shuttles. Art galleries, museums, artists, and private collectors prefer this service for its reliability, safety, and attractive rates. If you need to ship art to Sarasota or from Sarasota to another city, contact our team today. We will take care of the entire process and ensure your artworks arrive at the destination in perfect condition and on time.