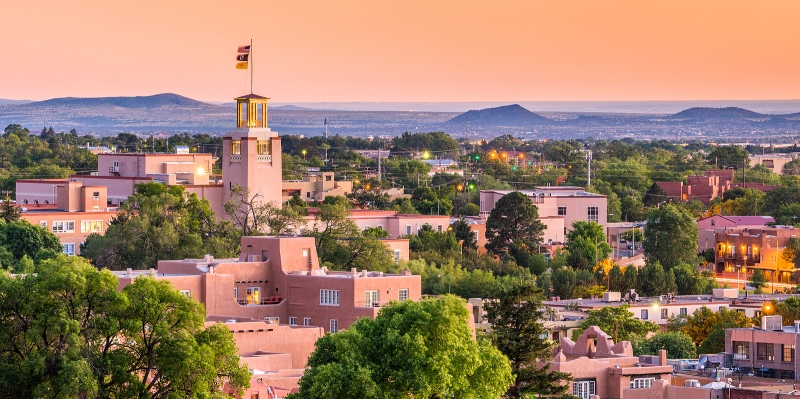 Santa Fe
Fine Art Shippers is pleased to offer professional art logistics services in Santa Fe, New Mexico. Thanks to our cross–country art shuttles, we have the ability and capability to serve local galleries, art businesses, institutions, and museums, shipping fine art and antiques for them interstate. We also serve auction houses and private collectors who choose our art logistics services in Santa Fe each time they need to deliver artworks to/from the capital of New Mexico.
Art has always been an integral part of Santa Fe. This city is unimaginable without its many galleries and museums that take an active position in saving the cultural heritage of the state and preserving its rich history and arts.
Works of traditional local art are exhibited at the Museum of Spanish Colonial Art that is particularly known for its collection of retablos and bultos (carved devotional paintings and sculptures) from the 18th century. It is truly a unique art space that allows the visitors to learn about the region's centuries-old tradition and to see how European culture acquired local color.
The Museum of Indian Arts and Culture is one more place you do not want to miss in Santa Fe. The museum is dedicated to Native American art, history, and culture. Its permanent exposition titled "Here, Now and Always" is a core exhibition of the museum, which has set a new standard for partnering and collaborating with indigenous communities.
It is impossible not to mention that Santa Fe is home to SITE Santa Fe Biennial, an important international exhibition of contemporary art, which was launched in 1995. High-quality contemporary art is also presented at a number of local galleries and art centers such as Gerald Peters Contemporary, Art House, ViVO Contemporary, and No Land.
Our art logistics services in Santa Fe are represented by art shuttle services. Fine art is transported by special trucks equipped with climate-control and air suspension systems to ensure the safety of artworks in transit. Our shuttles can deliver art to Santa Fe from anywhere in the United States, as well as from Santa Fe to any city and town across the country. We also offer custom crating services and can ship art internationally.
If you are looking for reliable art logistics services in Santa Fe, Fine Art Shippers is the best place to come for professional help. We will ensure your art is delivered safely and securely wherever it needs to be in the world.