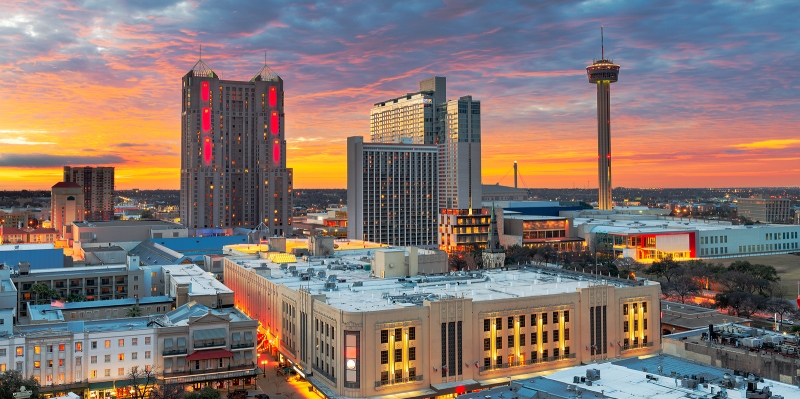 San Antonio
If you need to ship art to San Antonio, Texas, Fine Art Shippers is here to help. Our company has been providing art logistics services for over 25 years and is known for its professional expertise and individual approach to every client. We follow the highest industry standards and always take into account the specific features and shipping requirements of each transported artwork.
We ship art to San Antonio and other Texas cities by special art shuttles that have long been the number one choice for many artists, collectors, and art institutions. Our team also collaborates with art galleries and antique dealers who opt for our art shuttle service when they need to ship art to San Antonio reliably and quickly.
San Antonio is a popular art destination because of its thriving creative community and impressive amount of art museums and institutions with varied and fabulous collections. The art of the American West is presented at the Briscoe Western Art Museum, contemporary art is displayed in the Ruby City center, and the San Antonio Museum of Art houses a collection of 30,000 items of European, Asian, and Latin American art. Each art lover can find something to their taste in San Antonio.
It is interesting that San Antonio was the first city in Texas where a museum of modern art was opened. The McNay Art Museum was founded in the middle of the 20s century and since then has been exhibiting artworks by European and American artists, as well as theatre arts. Its collection features works by some of the most renowned masters, including Henri Matisse, Pablo Picasso, Paul Cézanne, Georgia O'Keeffe, Robert Rauschenberg, and Willem de Kooning. There are overall over 20,000 art objects, and also 30,000 volumes kept in the museum's library.
The most famous contemporary arts organization in the city is ArtPace. It is a non-profit gallery that offers art exhibitions, creative discourses, and educational and Artist-in-Residence programs for painters, sculptures, and mixed media artists from all over the world. Blue Star Contemporary (BSC) is another non-profit organization that specializes in contemporary art. It focuses on the art tendencies, innovative art movements, and art dialogs with an audience, and hosts annual open calls for local, national, and international artists.
If you are planning to ship art to San Antonio or another Texas city, consider our art shuttles. Request a free shipping quote online or call our managers directly at (917) 658-50-75 to discuss the details.