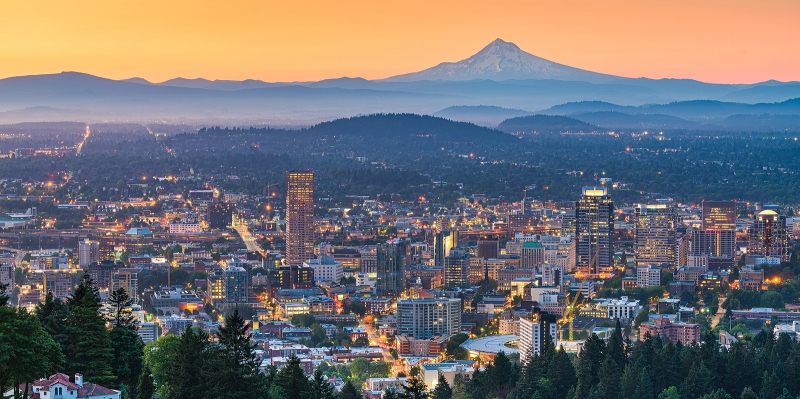 Portland
Whenever you need to ship art to Portland, be sure to contact Fine Art Shippers. We ship art all across the United States, including to/from Oregon. Our company offers a wide range of services that may come in handy whether you are planning to exhibit your works at a gallery or looking for the safest way to deliver artwork bought at an auction in another city.
Local galleries, museums, and private collectors are just some of our clients for whom we ship art to Portland. It is quite a popular direction for our art shuttles. This is not surprising because Portland is a very culturally developed city.
The art scene in Portland is truly impressive, with many amazing places that are worth visiting. For example, Blue Sky Gallery specializes in photography art by local and international artists, holding about 20-30 exhibitions per year. Bullseye Gallery is known for its incredible experiments such as glass blouses created in collaboration with Cassandra Straubing and the fashion designer Babette, and works by Kate Baker, combining printmaking with glass. Among other must-visit places are Charles A. Hartman Fine Art, Elizabeth Leach Gallery, and Froelick Gallery. Portland galleries truly feature a fabulous selection of artworks by sculptors, painters, and mixed media artists, as well as offer a variety of cultural programs, with lectures and curated shows for any taste.
In the fascinating world of Portland art, you can also find places that exhibit works by artists with mental illness. One such place is J. Pepin Art Gallery. It is a unique gallery that was open to start a positive conversation around mental health. The city is also famous for the Portland Art Museum, an innovative space and leading cultural institution where art from the collection is combined with PAM CUT. The active social position of the museum is evident in its partnership with the Northwest Film Center and programs devoted to environment and ecology initiatives.
So vibrant cultural life and innovative projects taking place in Portland with an enviable regularity require a high level of preparation and dedication. If you need your art to be delivered to the city in perfect condition, entrust this job to Fine Art Shippers. We will handle the entire art logistics process to give you an opportunity to concentrate on other things, without worrying about the safety of your artworks in transit. We ship art to Portland by our special art shuttles that run every 3-4 weeks.
Many galleries and collectors trust Fine Art Shippers to ship art to Portland, and we will be happy to have you among our clients too.