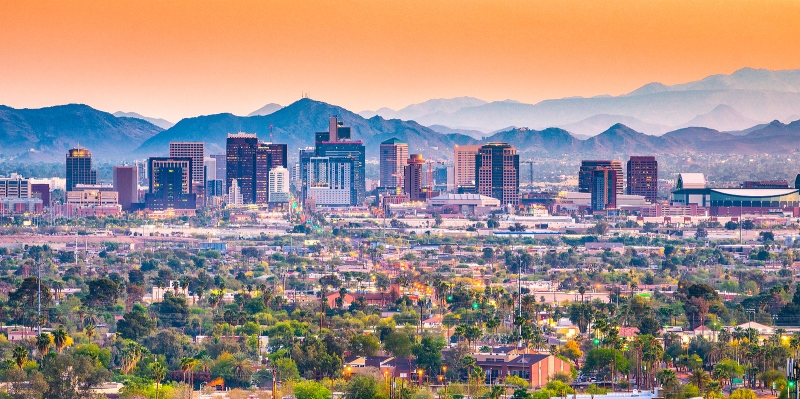 Phoenix
Phoenix is the most populated city in Arizona and the capital of the state. Cultural life in Phoenix is developed on a high level. Plenty of local galleries and museums attract art lovers from around the world with the diversity of their collections. Fine Art Shippers is happy to provide fine art moving services in Phoenix and serve all those who need a reliable art logistics partner in this part of the United States.
Our company is mostly known for regular art shuttle services tailored to meet the needs of the art community. Specially designed art shuttles ship artworks from door to door, taking care of the entire process of art transportation, from on-site packaging to white glove delivery. They cover all contiguous states, including the State of Arizona. We provide fine art moving services in Phoenix, Scottsdale, Tucson, and other Arizona cities and work with many local art dealers, museums, galleries, artists, and collectors.
Phoenix is renowned for its museums. One of the most important art institutions in the city is the Phoenix Art Museum. It is the biggest museum in the Southwest, with a collection of more than 20,000 art objects and about 300,000 visitors per year. The Phoenix Art Museum houses European, American, Latin American, and Asian art of different periods. These include works by Pablo Picasso, Georgia O'Keeffe, Max Ernst, Alberto Giacometti, Elisabeth Vigee-Lebrun, and Yayoi Kusama, among others. In addition to this, the museum provides educational programs adapted to each age group.
The demand for professional fine art moving services in Phoenix is also high because of the large number of art-related businesses, galleries, and cultural organizations in the city. One of them is Artlink, a non-profit organization that promotes arts throughout the state and contributes significantly to the development of the local art community and art businesses. Artlink's monthly First Friday Art Walk deserves a special mention. One of the largest art walks in the US, it allows art lovers to visit over 70 galleries and art spaces to enjoy the unique artistic spirit of the city.
Whatever your reason to look for professional fine art moving services in Phoenix, feel free to contact Fine Art Shippers. Our art shuttles can deliver your art anywhere in the United States quickly and at a reasonable price.