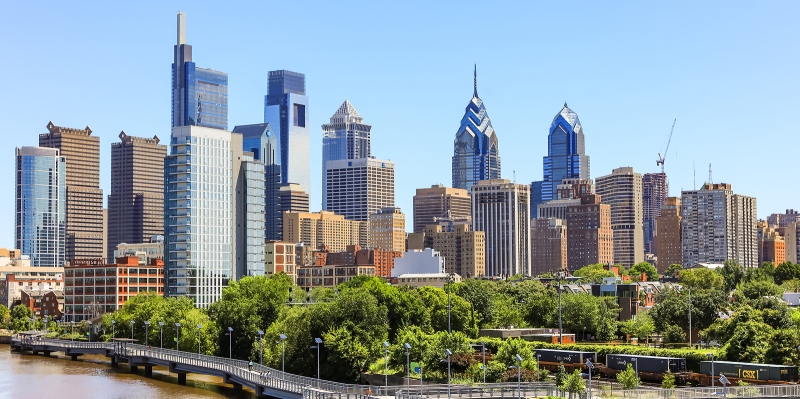 Philadelphia
Fine Art Shippers offers a wide range of art logistics services throughout the state of Pennsylvania. We particularly specialize in providing fine art moving services in Philadelphia.
Philadelphia, the first capital of the USA, is one of the oldest cities in North America. Since its foundation, it has been among the greatest financial, industrial, and cultural centers of the country. Considering the vibrant art scene in the city, we are happy to provide the local art community with professional fine art moving services in Philadelphia.
Philadelphia is unique with its perfect mix of folk motives and advanced contemporary art. Such galleries as Eyes Gallery and Indigo Arts Gallery present folk and Latin American art, crafts, and jewelry. Local and international contemporary art, in its turn, is exhibited at ICA Philadelphia, Wexler Gallery, Pentimenti Gallery, and many other stunning art spaces. Modern Latino art deserves special mention. The city has special programs and educational initiatives aimed at attracting more public attention to Latino culture.
The cultural image of the city is formed not only by galleries but also by museums and art institutions. One of the most fascinating Philadelphia art collections can be found at the Barnes Foundation, which was established by Dr. Albert C. Barnes between 1912 and 1951. The Barnes is mainly focused on the work of Impressionists, Post-Impressionists, and artists of the modern period. Its collection features paintings by Matisse, Renoir, Cézanne, and Modigliani, among others. There are also great examples of American avant-garde art, pottery and jewelry by Native American artisans, African art, and Pennsylvania German furniture.
The culture of ancient civilizations is presented at the Central American & Mexican Gallery of the Penn Museum in University City. The Philadelphia Museum of Art exhibits artworks by Frida Kahlo, Diego Rivera, and many other celebrated artists.
If you are looking for fine art moving services in Philadelphia, we strongly recommend that you take advantage of our art shuttle services. Our shuttle routes cover the whole country, so you can easily ship artworks from Philadelphia to any other city in the US or vice versa. We also offer local art moving services and can easily help you with art relocation within the state.
Whatever your needs, our fine art moving services in Philadelphia will pleasantly surprise you with their quality and competitive rates.