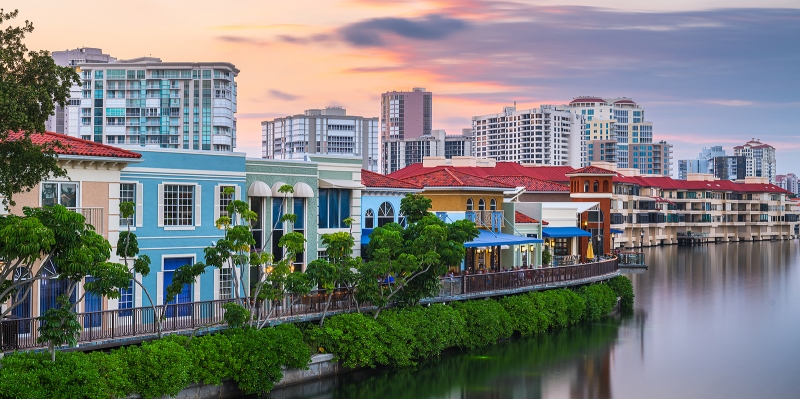 Naples
If you need to ship art to Naples, Florida, Fine Art Shippers will be happy to help. Our company has decades of experience and many clients among galleries, auction houses, museums, and art collectors throughout the United States and abroad. We provide a full range of art logistics services, including local art moving, sea and air shipping, and consolidated art shuttles for transporting artworks interstate.
At Fine Art Shippers, we ship art to Naples on a regular basis. This amazing city has long been an integral part of our East Coast art shuttle route that covers almost the entire state of Florida. Whether you are a gallerist, collector, or antique dealer, our team can come to any location to deliver fine art or collect artworks and ship them wherever they need to be safely and cost-effectively.
Naples is the center of the so-called Paradise Coast, which attracts people with its warm climate, beaches, golf courses, shopping, and luxury homes. Local art life has a specific atmosphere that can be felt throughout the city, from its vibrant art galleries to the Design District known for its annual art festivals. It is no wonder that there is always a demand for reliable art logistics companies able to ship art to Naples quickly and efficiently.
Naples also has several important art institutions. One of them is the Baker Museum that is famous for its high-class exhibitions of modern and contemporary art and educational programs. The permanent collection of the museum features more than 3,500 pieces of American and Mexican art of the 20th and 21st centuries. These include works by Georgia O'Keeffe, Willem de Kooning, Morgan Russell, Felipe Saúl Peña, Robert Rauschenberg, and other renowned artists.
Another must-visit art space is Naples Art. This art center holds exhibitions of local and international, aspiring and established artists. The purpose of Naples Art is to develop a strong art community. Exhibitions of contemporary art are accompanied by lectures, classes, workshops, and other programs.
It is also impossible not to mention East West Fine Art, a gallery specializing in exclusive art by Russian and Eastern European artists. It features an outstanding selection of oil paintings, sculptures, mixed media art, and photography. The gallery collaborates with the Russian American Museum of Art (RAMA).
Whatever your reason to ship art to Naples or from this amazing city anywhere in the world, be sure to contact Fine Art Shippers. We will be happy to help you with art logistics.