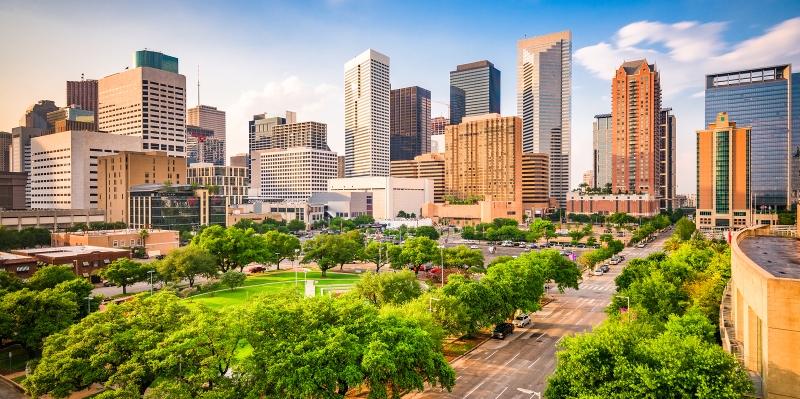 Houston
Whatever fine art shipping services in Houston you need, you have come to the right place! At Fine Art Shippers, we have over 20 years of experience working in all sectors of art logistics, and we always do our best to ensure that our clients' belongings get the best possible protection they deserve. Our dedicated team of art shippers has the expertise, knowledge, and tools to handle absolutely any task with a high level of precision, accuracy, and attention to detail, which allows us to serve some of the leading galleries, art institutions, and auction houses based in Texas.
In recent years, Texas has become a truly great destination for both artists and those who are not only interested in art but also have money to spend on it. Numerous fine art galleries and a whole range of museums, big and small, can be found throughout the state. The Museum of Fine Arts in Houston, the Meadows Museum in Dallas, the McNay Art Museum in San Antonio, and the Modern Art Museum of Fort Worth are just some of the most popular art destinations in the Lone Star State. At Fine Art Shippers, we are happy and proud to operate in this part of the country and provide our professional fine art shipping services in Houston and the rest of Texas. These include local, national, and international transportation services for paintings, sculptures, art installations, and other pieces of fine art.
In addition to our art shipping services in Houston, Fine Art Shippers offers antique moving and handling services. We have extensive experience in packing, shipping, and installing museum exhibits, Art Deco furniture, vintage mirrors and chandeliers, religious artifacts, and other valuables that require solid expertise to get the job done correctly. Moreover, we can handle items of any size and weight, including large marble statues and super heavy antique pianos.
Among other services that we offer in Texas are short-term and long-term art storage, art advisory and consultation, art courier, white glove home moving, custom crating, and more. In other words, Fine Art Shippers is the right company to come for help whatever art handling and art shipping services in Houston you need! The same applies to San Antonio, Dallas, Austin, Fort Worth, and other Texas cities because we operate all over the state, serving businesses and individuals alike. Just let us know about your requirements, and we will provide you with a customized solution to meet your specific needs!