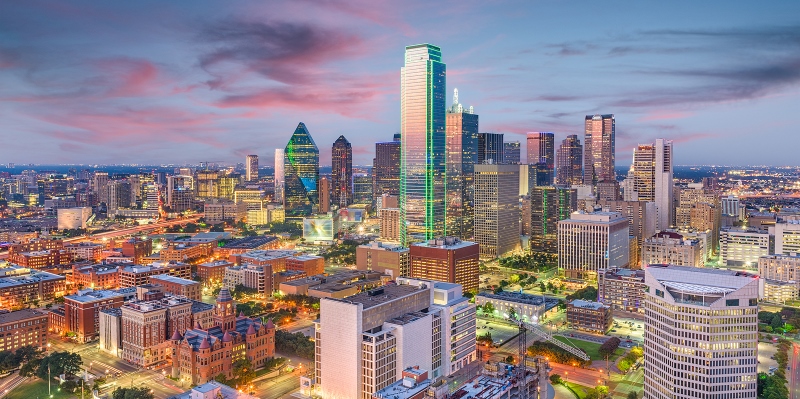 Dallas
If you are looking for a reliable art shuttle service to Dallas, TX, feel free to contact Fine Art Shippers. You can request a shipping quote online, email us at info@fineartshippers.com, or call our office at (917) 658-50-75. We will organize the entire process of art transportation quickly and according to your needs.
Our art shuttles run across the United States, visiting many states along the route. When it comes to the art shuttle service to Dallas, the deliveries are possible from New York, Miami, Los Angeles, Santa Fe, Chicago, Denver, Detroit, Seattle, and many other cities. We visit Dallas every 2-3 weeks and will be happy to help with art logistics if you need your valuable items to be delivered safely and securely.
Dallas is the economic and cultural center of North Texas. It is home to many contemporary art galleries, such as Valley House Gallery & Sculpture Garden and Dallas Contemporary, which offer exhibitions by both emerging and established artists working in a variety of mediums. Some galleries like Talley Dunn Gallery expand their exhibition activity by cooperating with museums and art institutions, using their platforms for different art projects. It is a great tendency, the development of which is very interesting to watch.
In Dallas, you can enjoy not only modern and contemporary works but also classical masterpieces. The Dallas Museum of Art, for example, features an outstanding collection of artworks of the late 19th – early 20th centuries. These include paintings by world-famous impressionists and post-impressionists such as Paul Cézanne, Edgar Degas, Paul Gauguin, Claude Monet, Édouard Manet, Vincent van Gogh, Henri de Toulouse-Lautrec, and Camille Pissarro, which are exhibited along with the works by American and European artists from the 1940th to the early 21st century, such as Gerhard Richter, Marcel Duchamp, René Magritte, and Mark Rothko, among others. The museum also has a great collection of oriental carpets, Chinese porcelain, sculptures, and items of decorative and applied arts.
Fine Art Shippers is happy to work in this part of Texas and provide our art shuttle service to Dallas to everyone who wants to ensure that their valuables are transported in appropriate conditions by experienced art handlers. Our company has strong relationships with many local galleries, collectors, and art institutions that choose our services among many others. If you are also interested in our art shuttle service to Dallas, be sure to contact our team today.