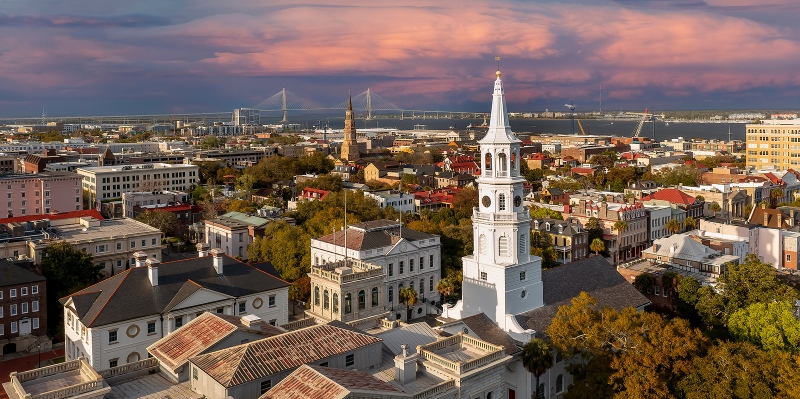 Charleston
For all those who need professional art logistics services in Charleston, SC – whether to deliver artwork interstate or to ship it to another country – look no further because you can find everything needed at Fine Art Shippers. We are a New York-based company, but we operate throughout the United States and have extensive experience in shipping fine art internationally.
Our art logistics services in Charleston are represented by our art shuttles that visit the city every 2-3 weeks. Not only do they allow to ship artworks interstate safely and quickly, but they are also the most cost-effective way of art transportation, which makes art shuttle services the best choice for art businesses and individuals alike.
Charleston is the oldest and largest city in South Carolina, known for its deep southern roots and amazing cultural events. According to Travel + Leisure Magazine, in 2016, it was even called the best city in the world. It is no wonder that Charleston attracts so many tourists, collectors, and art lovers from around the world.
Art logistics services in Charleston are well-developed because of the city's active cultural life. Charleston has a strong art community and many reputable art galleries providing the opportunity for local, regional, national, and international artists to present their art to a wider audience. Local art museums also deserve attention, especially the Gibbes Museum of Art. Its impressive collection features 18th- and 19th-century American paintings, neoclassical sculpture, the art of the period from 1915 to 1945, known as the Charleston Renaissance, modern and contemporary art, and over 600 miniature portraits made by more than 100 artists, including Charles Fraser, Jeremiah Theus, and Mary Roberts, among others. The permanent exhibition of the museum also features Patrick Dougherty's installation titled Betwixt and Between. Those who love contemporary art should also visit the Halsey Institute of Contemporary Art at the College of Charleston, which is known not only for its collection of works by many talented mid-career artists but also for its educational, publishing, and membership programs.
Fine Art Shippers is proud to offer professional art logistics services in Charleston, and we would be happy to help you ship art to its destination. If you need more information about our services, please fill in the free quote form online or contact our team directly.