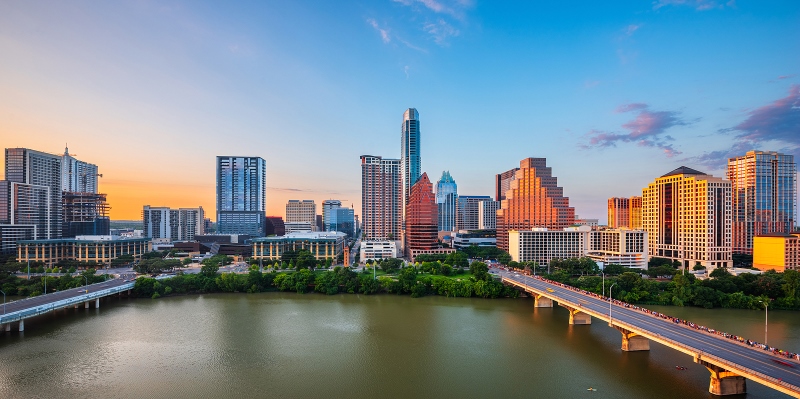 Austin
Fine Art Shippers is an established art shipping company offering a complete range of art services, from custom crating to art transportation to storage. While we are based in New York, our services are available throughout the United States. In particular, we offer professional art logistics services in Austin, TX.
Austin is a city with a rich cultural life. It has a lot of vibrant galleries and museums with amazing collections of art. The Blanton Museum of Art, for example, features more than 21,000 pieces of contemporary American and Latin American art, as well as many important paintings by European masters. The Contemporary Austin is another well-worth-visiting art museum. With two locations in the city, it is known for its great exhibitions of modern and contemporary art. A notable collection of art can also be found at Mexic-Arte Museum, which is focused on Latin American, Hispanic, and Mexican art and culture.
It is impossible not to mention the Elisabeth Ney Museum featuring the biggest collection of the artist's sculptures in the world. Various sculptures can also be viewed at the Umlauf Sculpture Garden & Museum in Zilker Park and the Betty and Edward Marcus Sculpture Park at Laguna Gloria, which is part of the above-mentioned Contemporary Austin.
In addition to local museums and galleries, Austin is known for hosting different art events. These include Austin Studio Tour, The Pecan Street Festival, and Austin Museum Day, among others. Each of them is truly original, with a fresh approach to presenting art.
Considering the powerful art scene in the city, the local art community is always in need of professional art logistics services in Austin. Fine Art Shippers is pleased to offer a special service of artwork delivery by consolidated art shuttles. Our shuttles visit the city every 3-4 weeks, making stops in various locations to collect and deliver fine art, glass items, ceramics, antiques, and more. They run throughout the country, so it is also possible to ship art from Austin to any destination in the US.
Fine Art Shippers provides art logistics services in Austin and many other cities in our country. We serve fine art galleries, museums, collectors, and art institutions and will be happy to be of service to new clients too. Whether you take part in an art event or simply need to transport artwork to or from the city, make use of our art logistics services in Austin. We will ensure that your works are transported to their destination safely and securely.