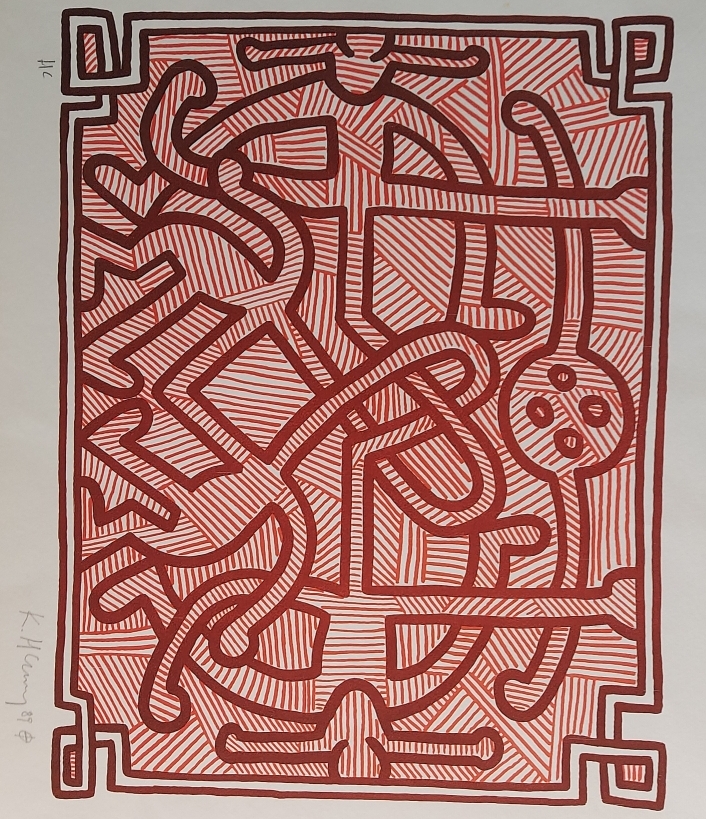 Fine Art Shippers is happy to announce that Keith Haring's original print "Chocolate Buddha 2" is now available for sale. Created and hand signed in pencil by the famous artist in 1989, the artwork will become an unprecedented and highly valuable part of any art collection. It was published by Keith Haring's good friend and colleague Andy Warhol, which makes the piece even more attractive for potential buyers. If you have questions about the print or want to buy it, please contact us to discuss further details. The best way to reach us is via our email at info@fineartshippers.com.
Chocolate Buddha 2
The print is in mint condition, with colors being not attenuated. There are two gallery stamps on the reverse of the piece, both saying "PUBLISHER NEW YORK INC. NEW YORK." "Chocolate Buddha 2" is the Hors D'Commerce (HC) original print that belongs to the series of prints of the same name. The complete portfolio dates back to 1958-1990. It was created using lithography.
A Note on Keith Haring
Keith Haring is one of the legionaries of the Pop Art movement. First and foremost, he is famous for his colorful and cartoonish artworks that could easily capture the audience's attention. Babies, dogs, and spaceships were regular objects in his murals and prints. Not only was he one of the most popular artists of his time, but he was also a prolific social activist aware of a variety of political issues. In his works, he turned the viewer's eye to apartheid in South Africa, the Cold War, HIV/AIDS awareness, and LGBTQ rights.
Throughout his career, Keith Haring produced more than 50 artworks, many of which were created for hospitals, charities, and orphanages. His six most popular artworks include "Radiant Baby," "Ignorance = Fear," "Crack is Wack," "Free South Africa," "Safe Sex," and "Barking Dog." As of today, the artist is considered one of the most influential creators of the Pop Art movement, which is why his works are so valued, and the featured original print is no exception.
Why Buy Keith Haring's Original Print?
Keith Haring's works usually rank high on the art market. Some of his works are exhibited in the best museums around the world, while some other part arouses great interest in art collectors of all calibers. If you wish to purchase the original print "Chocolate Buddha 2," feel free to contact us for further information.