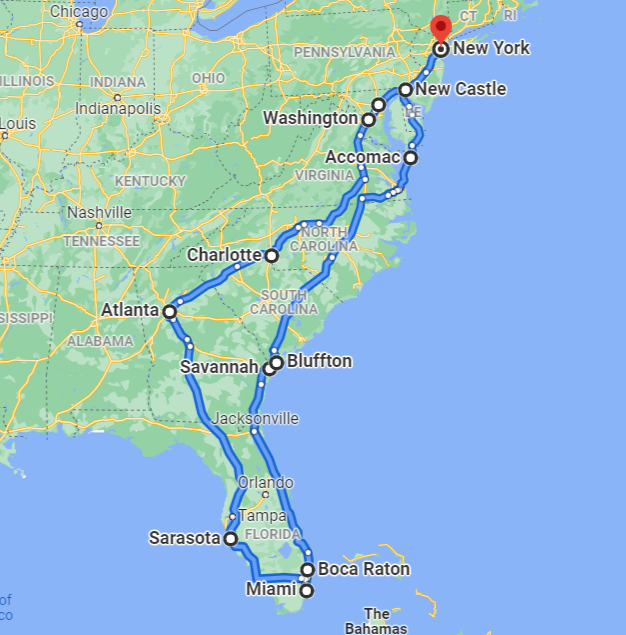 If you have a lot of work on your hands and no time whatsoever to ship your valuables to another city or state, Fine Art Shippers might be a good call. We are happy to announce that our East Coast art shuttle New York – Florida will leave New York City on February 11. Our company specializes in packing, handling, and shipping paintings, prints, sculptures, antiques, glass objects, and even art with irregular shapes. We will have several stops on our way to Florida, so please take time to look at our schedule.
Don't Miss East Coast Art Shuttle New York – Florida on February 11
The shuttle will start from the Big Apple on February 11. If needed, we can pick up art from all five boroughs of New York City. The first stop will be in New Castle, Delaware. After that, our art truck will head down along the coast to Accomac in Virginia. While driving to Florida, we will visit Bluffton in South Carolina and Savannah, the oldest city in the U.S. state of Georgia. Please note that we can make stops all along the route, so everything you need is to contact us beforehand. The best way to do so is to request a free shipping quote online.
When we arrive in Florida, we will be delivering artworks to their owners and picking up new art in Boca Raton, Miami, Sarasota, and other cities. Once we complete our work in the Sunshine State, East Coast art shuttle New York – Florida will move to Atlanta, Georgia. Then, our team will be making its way to New York through North Carolina, Virginia, and Washington, DC. Right before driving to the Big Apple, Fine Art Shippers will have a stop in Baltimore, Maryland.
All in all, our East Coast art shuttle New York – Florida is an effective way to save both your time and money. Contact us now to get a fair offer from our team of art couriers.