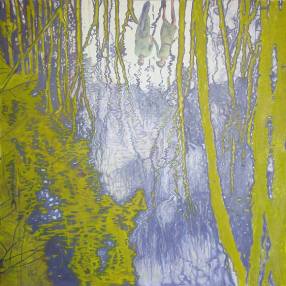 It is a pleasure for Fine Art Shippers to personally know many contemporary artists living and working in NYC. Be it a beautiful canvas art work, a glass sculpture, or a large installation, these incredible people create truly amazing art pieces able to adorn any collection. For example, we are really proud to be in contact with Ida Ivanka Kubler, a Bulgarian-born artist who is not afraid to experiment with different techniques, ideas, and mediums. You have probably heard of her notable series of silk cocoon abstract artworks titled "The Birth of an Idea," which was a huge success at the artist's solo exhibition at the Salena Gallery in Brooklyn. However, in this blog post, we want to draw your attention to another series of paintings by Ida Ivanka Kubler and share the artist's latest video dedicated to it.
Non-Material paintings by Ida Ivanka Kubler
"Non-Material" is a beautiful series of dreamy-ghost-like oil paintings by Ida Ivanka Kubler, which she started in Munich in 2007. Each canvas art work from this series depicts a certain scene on the border between realism and abstraction, turning it into a somewhat window to another reality born from the artist's imagination, life experience, and original approach to painting. You can see this for yourself in the video below.
Whether it comes to the iconic cocoon artworks or paintings from the "Non-Material" series, each canvas art work by Ida Ivanka Kubler is unique and definitely deserves a repeat viewing. At Fine Art Shippers, we wish this talented artist much success and all the best in her new endeavors!
Photo credit: Artist Ida/flickr.com