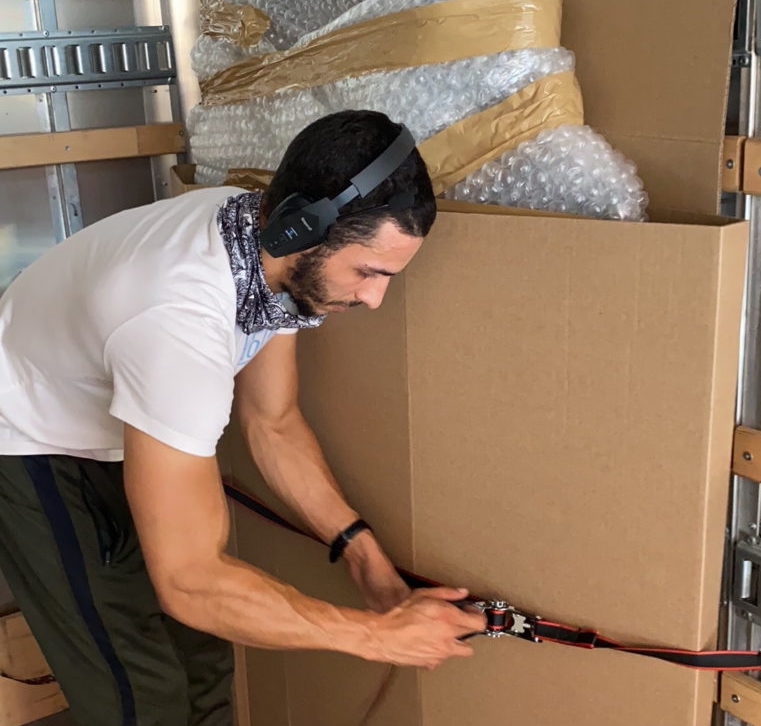 The art world has its glamorous side, but for those who choose to work in the field, the most important thing is the opportunity to spend their time surrounded by precious works of art, the privilege of touching them, feeling their smell and noticing small details that cannot be seen in a public exhibition. Becoming a fine art handler – also referred to as an art preparator – can be a great career path for someone who has a passion for fine arts, is physically fit, detail-oriented, and enjoys manual work.
What is Art Handling? 
"Art handling" is a catch-all term used to describe the work that goes into moving and installing artworks. The job description includes everything from packing, unpacking, shipping, crating, and transporting to installing, de-installing, photographing, and documenting works of art. Art handlers work with a range of art forms including paintings, sculpture, video, and performance, as well as supporting museum technicians and preparators in the fabrication of temporary exhibitions.
What Does the Job Involve?
Art handlers are usually employed by museums, galleries, and art handling companies that contract with these institutions. These specialists do more than move artworks around. For example, they might prepare a painting for display, or crate an artwork so it can travel safely to another institution or a private collector – ensuring that it will not be damaged in transit; they may even move an entire exhibition from one museum to another.
Museums and galleries often use art handlers to install and remove exhibits, as well as move artwork around the space. An art handler may also be tasked with maintaining the exhibit or space itself. This involves setting up lighting, building walls and platforms for the artwork to sit on, and ensuring everything is clean and safe.
In addition to this hands-on work, art handlers can also assist with other areas of the museum or gallery. For example, some employers will ask them to help out on the administrative side of things when needed.
It's important to note that art handling is different from conservation. Art handlers take care of artworks during the course of their daily lives (for instance, when on display or being lent out), whereas conservators treat artworks when they need to restore them after damage or deterioration.
Skills and Training 
The majority of people working in the field have no formal training or specific educational background; rather, they acquire their skills through experience. The career path for an art handler has several different routes. One may start out as a museum guard, or as a collector's assistant and then go on to work for an auction house.
As the role of an art handler continues to expand within the industry, experts agree that a common set of skills and knowledge is needed to take on this multifaceted job. It ranges from knowledge of art history to carpentry and construction (for instance, custom building the crate for the artwork or installing something on the wall using drywall anchors).
Salary 
The average salary for an entry-level art handler in the US is $30,000 and $33,000, with the highest-paid experienced individuals earning up to $53,000 per year. Paid internships can be hard to come by, but some small galleries and private collections do offer remuneration for this position.
The First cCareer Steps of an Art Handler
1. Decide what kind of art handler you want to be: do you want to work with outdoor sculptures, contemporary art, conceptual art, or handling priceless historical objects? Each requires a different skill set.
2. Learn about the business side of art handling: since there is more to it than just moving objects from one place to another, you need to learn about procurement, shipping, and storage.
3. A good starting point is to apply for an internship or volunteer at a gallery or museum, as they often hire their own staff after a period of successful freelancing.
4. If you have experience in other industries that require lifting or moving heavy objects, start your search there. For example, if you have worked in film production, you might be able to find work as an art handler on a set during off-hours.
5. Network: this is a universal rule for the art world in general, and specifically for those who want to become part of it. Reaching out to other people in the field can be helpful for getting into art handling, as well as for potential job opportunities.
Art Handling at Fine Art Shippers 
Fine Art Shippers employs a team of experienced, skilled, and motivated art handlers who can work with a wide variety of materials, weights, sizes, and values – including artwork worth millions of dollars and historically or culturally significant objects.